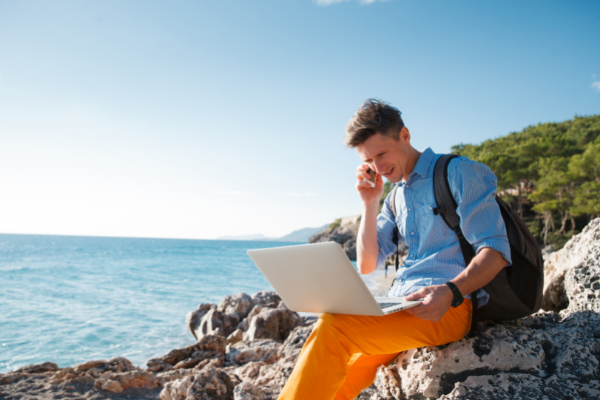 13 May

3 Growth Companies That Can Supercharge Your Portfolio's Returns

New habits have arisen as humans adapt to the changes brought about by the pandemic.

While some trends are temporary, others may be here to stay.

As investors, we need to be alert to such shifting trends and determine which has long-term staying power.

More people are shifting from physical to digital modes of communicating, transacting and interacting.

Such trends were present previously but have been greatly accelerated by the crisis.

As a result, companies in industries that are beneficiaries of such trends are experiencing strong growth despite the tough economic outlook.

Here is a look at three companies that are growing at breakneck speed.
Fiverr (NYSE: FVRR)
Fiverr runs a platform that connects businesses with freelancers that offer a wide variety of services and skillsets.
These services are offered in the form of digital services in more than 500 categories spread across nine verticals such as digital marketing, design and animation.
With increased connectivity due to the proliferation of smartphones and improved network infrastructure, more people are choosing to freelance rather than work regular hours in an office setting.
This trend was further reinforced in 2020 which upended traditional ways of working and forced many businesses to rely on the gig economy to fulfil specific tasks.
For the first quarter of 2021 (1Q2021), revenue doubled year on year to US$68.3 million.
However, due to higher sales and marketing expenses, Fiverr's net loss almost tripled from US$6.2 million a year ago to US$17.8 million in its latest quarter.
Despite the loss, there's no doubt the company is seeing solid growth for its platform.
Active buyers jumped by 56% year on year to hit 3.8 million, and annual spend per buyer has risen 22% year on year to US$216.
As Fiverr's platform continues to attract businesses and freelancers, the network effect will kick in and make the company increasingly more valuable.
Mercadolibre (NASDAQ: MELI)
Mercadolibre is the largest e-commerce player in Latin America.
The company operates a platform for businesses and individuals to trade products and services and also operates an online payments platform, Mercado Pago, that allows users to pay for their purchases.
Strong demand for financial technology and e-commerce in Latin America led to another strong set of earnings for Mercadolibre for 1Q2021.
Gross merchandise volume (GMV) surged by 77.4% year on year to US$6.1 billion, while items sold on its platform more than doubled from 105.7 million to 222 million.
Total payment volume on Mercado Pago rose by nearly 82% year on year to US$14.7 billion.
Unique active users on the company's platform increased by 61.6% year on year to 69.8 million.
Because of the increase in activity, net revenue for Mercadolibre more than doubled to US$1.4 billion.
The company booked an operating profit of US$90.8 million in 1Q2021, a positive turnaround from an operating loss of US$29.7 million in 1Q2020.
Amazon (NASDAQ: AMZN)
Amazon, as one of the world's largest e-commerce players, needs no introduction.
The company was launched in 1995 by founder Jeff Bezos and started out selling only books.
Over the years, Amazon has evolved into a marketplace that sells every conceivable item from movies and music to household items and is now worth around US$1.6 trillion.
As the shift to online shopping accelerates, Amazon is witnessing healthy growth in e-commerce volumes on its platform.
Revenue for 1Q2021 surged by 43.8% year on year to hit US$108.5 billion.
Operating profit more than doubled from US$4 billion to US$8.9 billion.
Net profit after tax soared 220% year on year to US$8.1 billion.
The business continues to generate healthy and consistent free cash flow. 1Q2021 saw free cash flow climb 9% year on year to hit US$26.4 billion.
Its entertainment division Prime Video has been operating for a decade and has amassed 175 million members.
As e-commerce becomes mainstream in many parts of the world, Amazon should see gross merchandise volume continue to rise on its platform.
We are in the golden age of growth where there is no shortage of growth trends. Over the past decade, we have seen the likes of Apple (NASDAQ: AAPL), Amazon (NASDAQ: AMZN) and Alphabet (NASDAQ: GOOGL) surpass the trillion-dollar market cap mark. Growth trends alone will not guarantee success. You need to find excellent companies that are capitalising on these trends too. And we believe cloud computing is one trend that fills this sweet spot. Join us for a FREE webinar: The Golden Age of Growth to maximise your chances of success in this booming trend.
Follow us on Facebook and Telegram for the latest investing news and analyses!
Disclaimer: Royston Yang does not own shares in any of the companies mentioned.