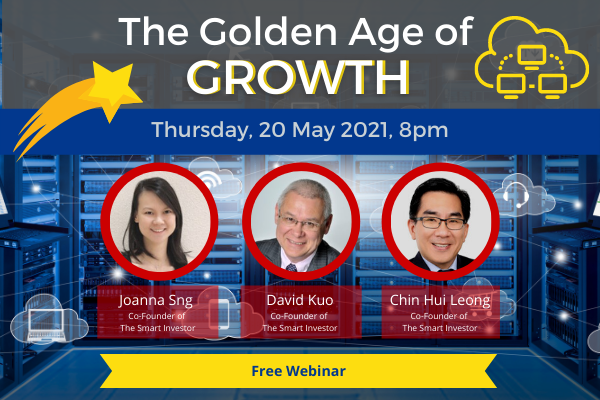 10 May

FREE WEBINAR: THE GOLDEN AGE OF GROWTH

We're finally set to enter a rare investing opportunity: The Golden Age of Growth.

Thanks to technology, we have no shortage of mega growth trends.

Over the past decade, we have seen the likes of Apple (NASDAQ: AAPL), Amazon (NASDAQ: AMZN) and Alphabet (NASDAQ: GOOGL) surpass the trillion-dollar market cap mark.

At the current internet's scale, we're likely to witness more trillion-dollar companies in the making.

But there's a problem.

Growth trends alone will not guarantee success. 

You need to find excellent companies that are capitalising on these trends too.

And we believe cloud computing is one trend that fills this sweet spot.

There's a long runway for growth. 

And there are plenty of smart companies riding on the cloud computing wave.

Once you attend our webinar, you'll quickly see why we don't want you to miss out on this opportunity.

Be prepared to take lots of notes, as we'll be sharing our knowledge to maximise your chances of success in this booming trend.