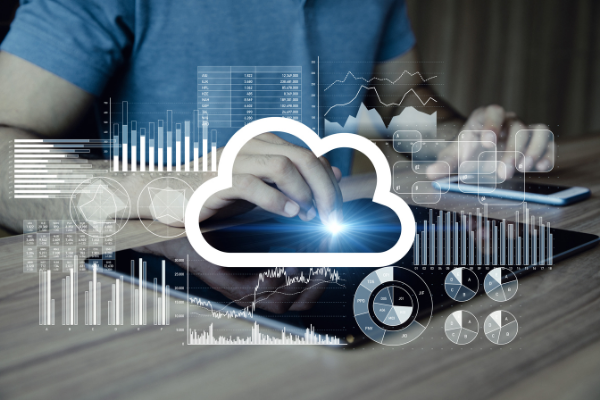 19 Feb

Why Cloud Computing is the Next Big Thing

Computing has come a long way over the last four decades.

During the 1960s and 1970s, mainframe computers dominated the scene with huge, clunky machines that required massive amounts of space.

As computing power grew exponentially over the years, the size of computers also shrank in tandem.

As computers become more compact in the 1990s, they were still mainly standalone modules and could not connect.

That all changed with the advent of the internet.

Once connected, computers could then begin "talking" to one another, ushering in a new era of computing that bridged vast distances.

This change proved to be crucial during the last year's pandemic..

The true power of computing, represented today by cloud computing, was able to connect workers wherever they were in the world.

In a nutshell, cloud computing uses a network of servers on the internet to manage and process data, delivering software from the cloud.

This new form of computing meant that you could remain online 24/7, implying almost zero downtime for organisations that are hooked onto the cloud.

We take a look at the power of the cloud and why it represents the next big trend to invest in.
An intelligent foray into the cloud
One of the major cloud computing giants in the industry, Microsoft (NASDAQ: MSFT), recently reported its fiscal 2021 second-quarter earnings ended 31 December 2020.
The company's revenue grew 17% year on year during the quarter to hit US$43.1 billion, while net profit jumped 33% year on year to US$15.5 billion.
Notably, the company's commercial cloud segment revenue which grew 34% year on year to US$16.7 billion.
Microsoft's Intelligent Cloud division saw revenue growth of 23% year on year to hit US$14.6 billion, driven by revenue growth of Microsoft Azure of 50% year on year.
Azure is a comprehensive cloud product that allows organisations to carry out a range of functions such as deploy machine learning, create bots and run web analytics.
This cutting-edge cloud solution is used by large organisations such as Honeywell Industries (NYSE: HON) and Johnson Controls (NYSE: JCI), and Microsoft is continuing to invest in this division by announcing seven new data centres to support its cloud functionality.
A digital advertising giant
Yet another big cloud player, Adobe Inc (NASDAQ: ADBE), is big on advertising.
The company well-known for its portable digital format (PDF) documents provides a service known as Advertising Cloud, a platform that allows organisations to manage their digital advertising strategies.
The company just reported a record quarterly revenue of US$3.4 billion for its latest fiscal fourth quarter, up 14% year on year.
Of note is the Digital Experience segment, of which Advertising Cloud is a part.
Revenue for this segment grew 10% year on year to US$819 million, and subscription revenue increased by 14% year on year.
Advertising Cloud is attractive for customers as it provides a platform for managing advertisements to ease the transition to omnichannel retailing.
With the pandemic leading to lockdowns and movement restrictions, being able to sell online with a coherent digital strategy could mean life or death for a wide swath of businesses.
Subscription-based services
In the last decade, there has been an explosion in the number of businesses that are using the cloud to deliver their services.
The ease of connecting to a cloud platform and the constant availability of the service makes for an attractive proposition to customers.
Known as software-as-a-service companies, they thrive on a subscription-based model by delivering their services through the cloud.
Salesforce.com (NYSE: CRM) provides customer relationship management services, Paycom Software (NYSE: PAYC) provides online payroll services and Alteryx's (NYSE: AYX) platform is used for data science and analytics.
The convenience associated with a cloud solution, along with the usage of artificial intelligence, provides a compelling reason for clients to switch over to cloud-based systems rather than the outdated practice of purchasing boxed software for in-house use.
Get Smart: Floating on clouds of promise
Rapid digital acceptance and transformation by various industries will lead to strong multi-year growth for cloud computing.
The pandemic has accelerated the pace of adoption, but the structural tailwinds of rising data usage, the ubiquity of smartphones and the rise of 5G networks were already present before the crisis.
The runway for growth remains significant.
Research firm Gartner estimates that worldwide IT spending will grow from US$3.7 trillion in 2020 to over US$4.1 trillion in 2022. In particular, the enterprise software segment is expected to see spending increase from US$465 billion to over US$557 billion in 2022.
Cloud computing promises consistent multi-year growth and interested investors can hop on for the lucrative ride.
SPECIAL FREE REPORT! 10 Growth Stocks to Supercharge Your Portfolio! We cover 3 unstoppable growth trends and the 10 stocks that will ride them in 2021 and beyond! CLICK HERE to download for FREE now!
Don't forget to follow us on Facebook and Telegram for some of our latest free content!
Disclaimer: Royston Yang does not own shares in any of the companies mentioned.