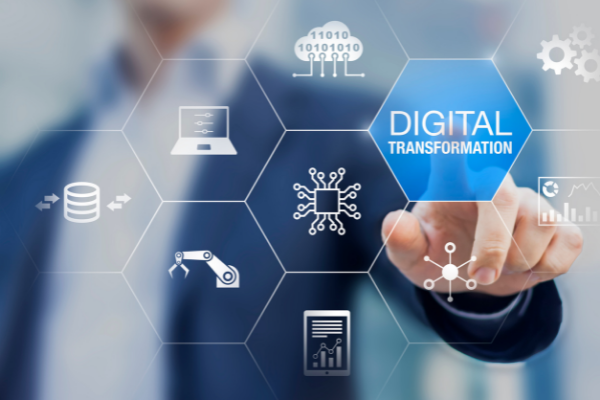 18 May

The Second Wave of Digitalisation is Here

The shift from offline activities to online is not new.

But if you think that the transition is over, think again.

In fact, Microsoft (NASDAQ: MSFT) CEO Satya Nadella said that we are witnessing the dawn of the second wave of digitalisation — and for good reason.

The US$1.9 trillion dollar tech giant is directly benefiting from the new wave of digitalisation that is sweeping through multiple industries.

And I am not talking about Microsoft Excel alone.
The dawn of the second wave of digitalisation
In the latest quarter, the Redmond-based company added US$6.7 billion to its topline, growing its revenue to over US$41.7 billion.
But what's interesting is how widespread its growth has been.
Microsoft has its fingers in many pies.
For instance, Microsoft's professional social platform, LinkedIn, saw its sales jump 25% year on year, on the back of higher ad sales.
LinkedIn's performance is by no means an isolated occurrence.
Over the same period, Alphabet (NASDAQ: GOOGL) and Facebook (NASDAQ: FB) both saw their ad revenue explode upwards by 32% and 46% year on year, respectively.
Meanwhile, Microsoft's Gaming revenue soared 50% year on year, boosted by demand for its new Xbox console. Content and services also saw a healthy 34% increase in revenue.
Interest in gaming has picked up during the worldwide lockdowns last year and is showing no signs of slowing down.
Over the same period, major game maker Activision Blizzard (NASDAQ: ATVI) saw its revenue rise by 27% year on year, suggesting that what the Xbox is experiencing is, again, not a unique occurence.
Elsewhere, Microsoft's Surface hardware also received a 12% bump up in sales compared to a year ago.
iPhone maker Apple (NASDAQ: AAPL) did even better, adding an impressive US$31.3 billion to its latest quarter's revenue, lifting it to a new quarterly record of US$89.6 billion.
Hardware sales from the iPhone, Mac and iPad were particularly strong, with Mac sales reaching an all-time high.
Getting down to business
Demand for digital tools for the workspace is also showing no signs of slowing down.
Microsoft's Office 365 commercial sales rose 22% year on year while Microsoft's Dynamics 365 cloud-based solutions posted a healthy 45% year on year increase.
Azure, Microsoft's cloud computing platform, saw its sales soar by 50% year on year.
The heightened growth in digitalisation is one of the many reasons why we decided to focus our attention on cloud computing for The Smart All Stars Portfolio.
That's because we believe that the move towards cloud computing is still in its early days.
What we are seeing today is the continuation of the digitalisation that received a big push in 2020.
The sample of earnings results above speak for themselves.
The approval and subsequent roll out of the COVID-19 vaccine has not slowed down the growth at some of the largest companies in the world, including Microsoft, Apple and Alphabet.
In fact, we think that the pandemic has provided the impetus for companies of all sizes to rethink their existing processes and start moving them online.
Growth of all sizes
At The Smart All Stars Portfolio, we will be methodically putting together a selection of cloud computing companies to form a solid backbone for the portfolio.
We will be looking to build a base of large, proven cloud computing companies. From there, we will be layering on a strong centre of promising, higher growth leaders in their industries.
To top it off, we will indulge in a selection of high-potential, high-growth companies.
Every cloud computing stock plays a different role in our portfolio.
It's our job to balance the risk and growth opportunities we see in each stock and allow time for the underlying businesses to bloom and compound our money.
Any investor, we believe, can build their own growth portfolio and do so safely — always balancing the amount of risk you take for the reward you seek.
And to do so methodically, over periods measured in years.
In our latest special FREE mini report, we did a complete analysis of the SaaS market, and summarised everything you need to know about it. Click HERE to download the report now!
In our upcoming FREE webinar, we'll be covering the cloud computing mega trend and the smart companies riding this wave. Click here to register now!
Disclaimer: Chin Hui Leong owns shares of Activision, Microsoft, Apple, Facebook, and Alphabet.