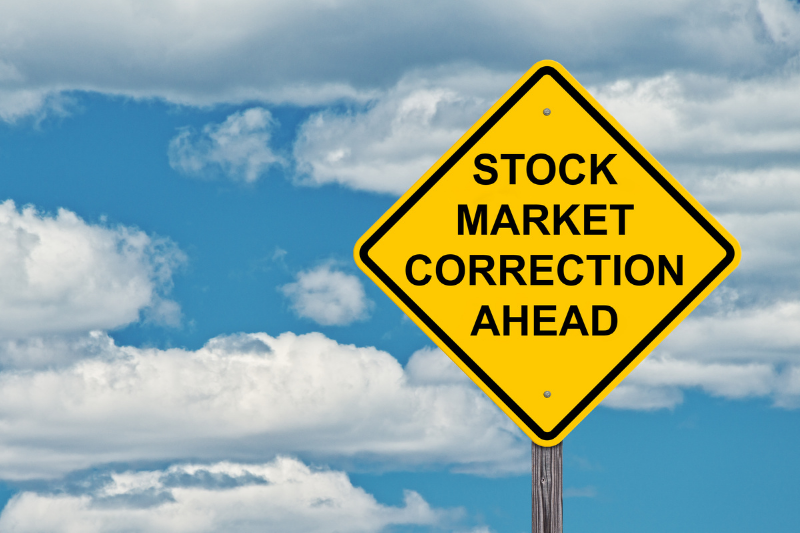 25 Jan

The NASDAQ Correction is Here: How to Make the Most of the Downturn

US stocks have tumbled sharply since the start of this year.

The NASDAQ has declined by 14.3% from its November all-time high and entered correction territory.

The carnage looks even worse if we ignore the trillion-dollar companies that make up a sizable part of the index's weight.

According to Bloomberg, roughly four out of every 10 companies on the NASDAQ have seen their share prices halve from their 52-week high.

The swoon occurred due to the Federal Reserve signalling its intention to raise interest rates on the back of soaring inflation.

If you are invested, it's not a great feeling to see your stocks skidding sharply lower.

However, lower share prices are also an opportunity.
Healthy free cash flow generation
Amid the carnage, it's important to remember that these sharp declines are mostly driven by short-term sentiment.
Over the long term, it's business fundamentals that determine how well your investments will perform.
A crucial aspect to watch out for when selecting stocks to buy is free cash flow.
Businesses that generate copious amounts of free cash flow are better able to withstand economic stress.
The healthy cash flow also provides the company with more options on how to deploy its money, such as share buybacks and the payment of higher dividends.
Take Adobe (NASDAQ: ADBE) for example.
The software-as-a-service (SaaS) digital media company recently posted a record-high revenue for its fiscal 2021 (FY2021).
Despite its share price falling around 27.4% from its peak of US$688.37 in November, the company generated a healthy free cash flow of US$6.8 billion, up 29% year on year.
Meanwhile, electronic signature company DocuSign's (NASDAQ: DOCU) share price has plunged by 62.5% from a year-high of US$310.05, but the company's free cash flow for the first nine months of fiscal 2022 (9M2022) has more than doubled year on year to US$374.7 million.
Elsewhere, identity management cloud specialist Okta (NASDAQ: OKTA) churned out US$82.4 million for free cash flow for 9M2022.
Sustainable tailwinds
Another approach is to hunt for stocks that boast sustainable tailwinds that will help to carry their business to the next level.
Over the past 24 months, there has been a surge in digital adoption..
As more people work and study from home, social media usage has also grown in tandem.
Meta Platforms (NASDAQ: FB), the owner of Facebook, WhatsApp and Instagram, has seen its monthly average users jump by 16.6% to 2.91 billion in the 21 months since end-2019.
Meanwhile, search engine Google's owner Alphabet (NASDAQ: GOOGL) has also witnessed a strong surge in its cloud computing and video-sharing divisions.
Revenue for its fiscal 2021 third quarter surged by 41% year on year while net profit soared by 68.4% year on year to US$18.9 billion.
As the world settles into a new normal, the continued momentum in digital adoption should see these two businesses performing well.
Strong franchises
A third aspect to watch for are businesses with strong franchises and stellar track records.
Microsoft (NASDAQ: MSFT) is well-known for its suite of Office software that deals with spreadsheet and word processing.
The software giant has also experienced growth in its cloud computing division, Azure, while Linkedin led the charge for its business networking division which reported a 42% year on year jump in revenue for its latest quarter.
Recently, Microsoft announced the acquisition of Activision Blizzard (NASDAQ: ATVI) for US$68.7 billion, in a move that will make Microsoft the third-largest gaming company by revenue.
Get Smart: Keep some cash handy
As the above examples illustrate, growth is far from over for many businesses.
It may just be the beginning for many of these stocks due to the acceleration in the uptake of digital services in the last two years.
That's why it's useful to always keep some cash within your portfolio.
When opportunities arise due to a market correction, you can swoop in and buy shares of great companies to hold over the long term.
Remember that tough times don't last, but tough people do.
And by summoning up the courage to purchase stocks during a downturn, you increase your chances of a profitable outcome as the business continues to grow.
For over 30 years, David Kuo has successfully built many winning portfolios. What's his secret? We break it down for you in our latest FREE special report. Discover his strategies and stock insights for 2022. Click here to download now.
Disclaimer: Royston Yang owns shares of Meta Platforms, Alphabet and Adobe.