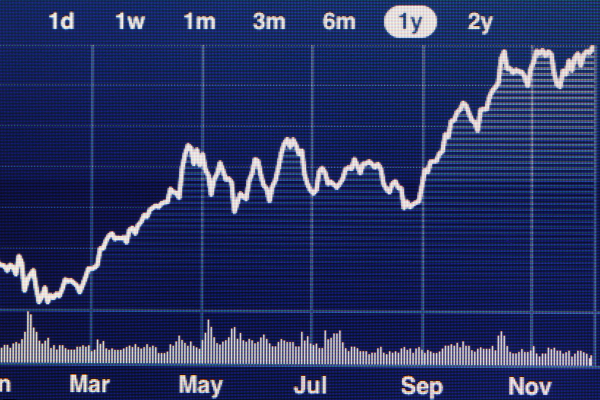 21 May

Get Smart: Why US Stock Prices Can Soar Even Higher

I have a confession to make …

I have never timed the market perfectly.

Let me share an example.

In 2010, I bought shares of Booking Holdings (NASDAQ: BKNG), Amazon (NASDAQ: AMZN) and Apple (NASDAQ: AAPL).

Buying three stocks is only half the story.

Here's the kicker: when I scooped up those four shares, the S&P 500 had rallied by 68% from its March 2009 low during the Global Financial Crisis.

In other words, the prices which I got for the three shares were nowhere as cheap as they were during the depths of 2009.

In fact, by the time I bought these shares …

Apple stock had almost tripled from its low.

Amazon stock had doubled.

And Booking Holdings stock had soared by over 150% from its March 2009 low.

If this scenario sounds familiar to today's environment, read on.

But here's the thing …

Despite missing out on lower prices a year ago, those three stocks are up, on average, by 17 times.

In effect, every US$1 invested grew to almost US$17.

With the benefit of hindsight, the reason for the massive stock appreciation is clear.

In 2010, smartphones were, well, the smart bet to make.

Over the next decade, the number of smartphones in the world would explode from around 300 million units in 2010 to a whopping 3.8 billion last year.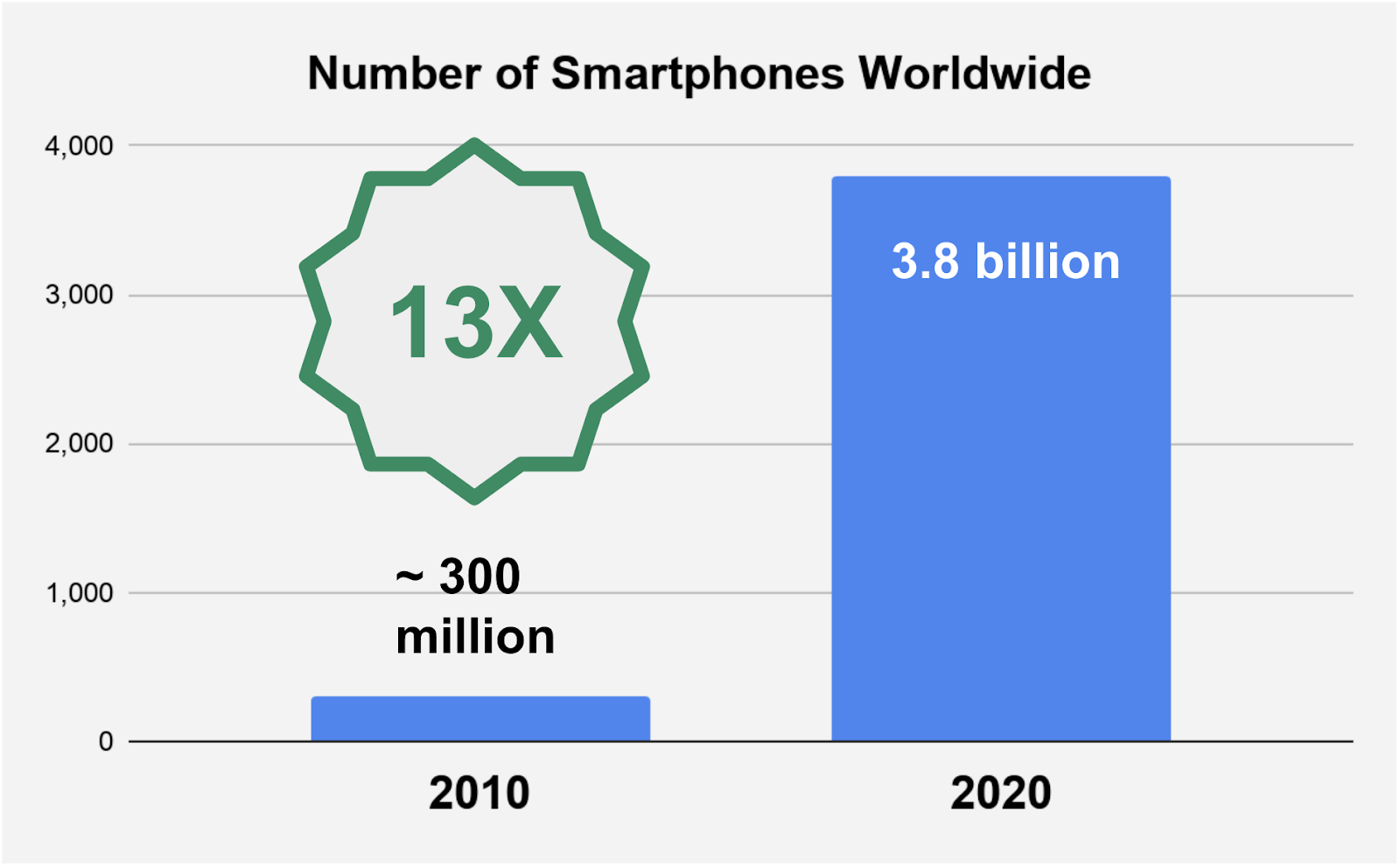 Source: Statista
Apple was a direct contributor and beneficiary of the explosion in smartphone growth.
Meanwhile, Amazon and Booking holdings were able to reach more customers as internet connectivity proliferated around the globe in tandem with the sharp increase in the number of smartphones.
As a result, shares of Apple, Amazon and Booking Holdings flourished.
For an entire decade.
The past points the way for the future
As we look into the future, the opportunities for growth are just as immense.
The trick was finding the right, multi-year trends to invest in.
And that's only the first step.
After all, the proliferation of smartphones did not just happen on its own.
Few would argue that Apple's iPhone played a massive role in igniting growth that would go on to last for over a decade, leading to more people being connected to the internet than ever before.
In short, without Apple throwing its hat in the ring, the growth of smartphones may not have reached its full potential.
Similarly, if Amazon did not popularise the idea of online delivery, eCommerce may still be languishing.
Likewise, if Booking Holdings had not popularised the agency model for online hotel booking, we may still be stuck with an unsatisfactory online booking experience.
The right companies matter.
That's why, as an investor, you need to find a growth path with a long runway AND the right companies positioned to capitalise on these trends.
On Cloud 9
At the Smart All Stars Portfolio, we have decided to throw our hat into the ring and focus on software-as-a-service (SaaS) stocks.
To date, we have allocated well over a third of our portfolio into this important sector.
But why choose SaaS over other trends, you may ask.
For us, it all boils down to two key things.
Firstly, SaaS is not an unproven trend still searching for its place in the business world.
SaaS is an established industry with real use cases.
According to Gartner, enterprise software spending in 2021 is expected to exceed half a trillion (yes, with a "T") US dollars.
We cannot stress more than this is actual spending and not a projected figure based on a bunch of assumptions that may not turn out to be true.
Secondly, if you stretch your horizon further, Gartner expects the total worldwide spend for IT (including hardware, telecommunications, infrastructure) to approach US$4 trillion dollars.
That's a huge annual spend that can be tapped with the right products and services.
Get Smart: The right SaaS companies
To close, we see the pandemic as the catalyst that has launched SaaS stocks to the forefront of growth.
More importantly, we think that the growth in SaaS space is far from over.
The Smart All Stars Portfolio has picked eight SaaS companies so far, ranging from established businesses to companies that are showing promising growth.
From there, we have carefully allocated our money according to the risk and prospects we see for every single stock that we picked.
Because, you see, when it comes to investing, it's not just about knowing which company to buy, but also putting the right amounts of money into the right stocks.
From there, it's about having the conviction to hold, like what I did with Apple, Amazon and Bookings Holdings, to allow time for the select group of All Star companies to deliver multiples upon multiples of what we initially put in.
That's what we do, and we hope that you will join us.
For 5 days only, we're reopening our US-focused growth service, The Smart All Stars Portfolio. If you'd like to register for an exclusive invitation, please CLICK HERE.
Follow us on Facebook and Telegram for the latest investing news and analyses!
Disclaimer: Chin Hui Leong owns shares of Booking Holdings, Amazon and Apple.