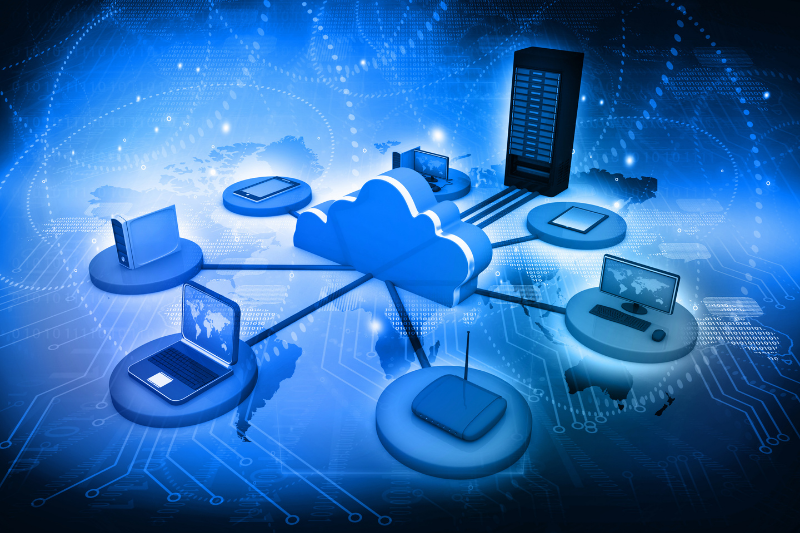 27 Nov

Cloud Computing: An Enduring Trend That Looks Set to Accelerate

Imagine a scenario where you accidentally deleted a few photographs of your family taken on a holiday many years ago.

Fortunately, you can retrieve these valuable memories as all your mobile data is automatically backed up on the cloud.

The above scenario is a great example of how cloud computing has been inextricably woven into our lives.

Today, we rely on the internet for everything from information and software to entertainment and social media.

The power of the cloud extends beyond personal computing.

Businesses are now harnessing the power of the cloud to conduct business more expediently and to market themselves to a larger pool of potential customers.

Let's have a look at why this trend is set to not just stay, but will also accelerate over time.
The power of the cloud
Cloud computing offers a range of attractive advantages for businesses.
First off, it is available 24/7 as an online service, thereby allowing clients or suppliers to access it anywhere and at any time.
The easy access means staff can be freed up for other functions, thus reducing costs for companies.
Secondly, cloud computing is scalable and is reliable with hardly any downtime.
The flexibility that it offers enables businesses to adjust its processing and resource requirements according to its needs.
Finally, and most importantly, cloud computing can push through automatic software and platform updates seamlessly.
Gone are the days when a client needed to manually download a patch or update to get the latest version of a supplier's software.
Big Tech is embracing cloud technology
Many of the largest technology companies have embraced the cloud as an essential part of their business.
Microsoft (NASDAQ: MSFT), famous for its suite of word processing and presentation software, has a cloud platform known as Azure.
Azure's platform offers more than 200 products and cloud services and is used by large corporations such as Komatsu (TYO: 6301), Bosch, and SAP SE (NYSE: SAP).
Alphabet (NASDAQ: GOOGL), the parent company of search engine Google, also offers its cloud service called Google Cloud.
Recently, fast food restaurant Wendy's Co (NASDAQ: WEN) leveraged Google Cloud to improve the taking of customers' orders at a restaurant or remotely.
The artificial intelligence embedded in the cloud also helps to personalise orders for customers as it recalls their purchase history.
The largest cloud service, however, is offered by e-commerce behemoth Amazon (NASDAQ: AMZN) under Amazon Web Services (AWS).
AWS is widely regarded as the world's most widely-adopted cloud platform with 200 services from data centres globally.
The software-as-a-service model
The cloud is also being increasingly used by software-as-a-service (SaaS) companies to deploy their software to clients on a subscription basis.
This model provides convenience to the client as the platform is accessible 24/7 and updates are automatically pushed through the cloud to all customers.
Examples of SaaS companies include e-signature specialist DocuSign (NASDAQ: DOCU), customer relationship management software provider Salesforce.com (NYSE: CRM), and identity management specialist Okta (NASDAQ: OKTA).
These businesses are scaling rapidly by tapping on the cloud and are building a recurring stream of revenue using a subscription-based model.
Increased digitalisation
The above examples are just the tip of the iceberg when it comes to what the cloud can achieve.
The pandemic has accelerated digital adoption and the internet has seen an explosion in traffic as more people head online.
Companies are also digitalising at a pace never seen before as more people telecommute.
End-user spending on public cloud service is expected to grow by 23.1% per year from US$270 billion in 2020 to US$332.3 billion this year.
What's more, as 5G internet connectivity becomes the new norm, the number of 5G subscriptions is projected to surge to 3.5 billion by 2026 from the current 580 million.
These catalysts should boost the prospects of cloud players and provide them with a long growth runway.
Get Smart: The cloud is the limit
The sky's the limit when it comes to use cases for the cloud.
There are so many ways to ride on the cloud computing trend that it opens up a plethora of investment opportunities.
What's more, this trend is set to go on for years or even decades as advancements in internet connectivity and technology are set to push the limits of computing power.
Cloud computing is here to stay.
And if you invest in the right businesses that can ride on this tailwind, your investment portfolio should see steady growth in the years ahead.
Look out for our email invitation to join All Stars at our exclusive Black Friday sale.
Send us an email at hello@thesmartinvestor.com.sg if you did not receive your special invitation.
Follow us on Facebook and Telegram for the latest investing news and analyses!
Disclaimer: Royston Yang owns shares of Alphabet.