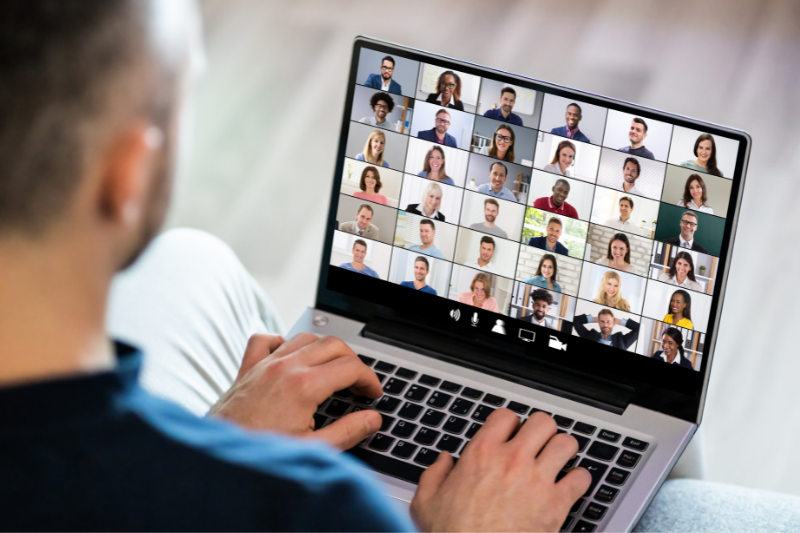 14 Jun

5 US Growth Stocks That Should Do Well Post-Pandemic

Two clear trends that have been accelerated by the COVID-19 pandemic is that of cloud computing and digitalisation.

Investors may have observed that both these trends had been gaining momentum even before the pandemic hit our shores.

What we are witnessing now is simply an acceleration of a structural trend that is here to stay.

The good news is that the tide is slowly but surely turning against the coronavirus.

The world, however, will unlikely revert back to the previous norms.

Investors need to look for companies that are riding on trends that will persist post-pandemic.

Here are five growth stocks that should continue to do well in the new normal.
Zoom (NASDAQ: ZM)
Video-conferencing company Zoom has turned into a household name as individuals and businesses turn to online video to stay in touch during the pandemic.
As more people telecommute, Zoom is witnessing a surge in demand for its services like never before.
With more businesses realising the convenience associated with its easy-to-use software and tools, it's unlikely that businesses will rid themselves of their reliance on Zoom even after the downturn.
The company continued to report strong financial and operating metrics for its fiscal 2022 first quarter ended 30 April 2021.
Total revenue nearly tripled year on year from US$328.2 million to US$956.2 million, while operating income increased by nearly ten-fold over the same period to US$226.3 million.
Net profit soared from US$27 million a year ago to US$227.4 million in the current quarter.
Zoom now has 497,000 customers with more than 10 employees, up 87% year on year.
The numbers should continue to look good for the company as it embeds itself deeper into people's lives with each passing day.
Etsy (NASDAQ: ETSY)
Back in the pre-internet age, if you wanted to send a hand-made gift to a friend or loved one, you usually had to design it yourself.
The process was time-consuming and tedious.
Fast forward to today, and you can easily find a whole range of customised, hand-made gifts selling on Etsy's platform.
The e-commerce company specialises in unique, handcrafted goods from entrepreneurs and influencers around the world.
Etsy's business has continued to boom, with its fiscal 2021 first quarter (1Q2021) chalking up impressive growth.
Gross merchandise sales (GMS) jumped by 132.3% year on year to US$3.1 billion.
The surge in GMS has led to a more than year on year doubling of revenue from US$228.1 million a year ago to US$550.6 million in its latest quarter.
Net income has leapfrogged 11-fold year on year to US$143.8 million.
With its niche focus, Etsy should continue to attract buyers who are seeking products that are different from those found on other e-commerce sites.
PayPal (NASDAQ: PYPL)
Accompanying the surge in people going online, online payments have seen a sharp increase as well.
And no company is better placed to take advantage of this than PayPal.
The online payments platform provider connects financial institutions and their customers by enabling quick and secure payment transactions.
1Q2021 saw the company's strongest first quarter in its history, with total payment volume (TPV) surging 50% year on year to US$285 billion.
Revenue grew in tandem with the rise in TPV, increasing by 31% year on year to over US$6 billion.
Net profit stood at US$1.1 billion, significantly higher than the US$84 million recorded in the same period last year.
PayPal also added 14.5 million net new active accounts during the quarter, increasing its user base to a stunning 392 million.
Chipotle Mexican Grill (NYSE: CMG)
Chipotle Mexican Grill, or CMG, is a Mexican food chain with over 2,800 restaurants as of 31 March 2021.
The company has successfully adapted its business model to pivot to digital orders during the pandemic.
Back in July last year, it had already opened its 100th Chipotlane store, which features a drive-thru digital order pick up lane.
In November, the restaurant chain opened its very first digital-only restaurant, allowing only pick-up and delivery.
Two months later, CMG announced the testing of its new car side pickup service in 29 locations, where a staff member will bring the order to the customer's car after an order is placed on the company's app.
And in March this year, the company invested in Nuro, a leading autonomous delivery company, to augment its digital ecosystem.
These measures have supported CMG's digital sales surging 134% year on year for 1Q2021, accounting for half its total sales.
Revenue also increased by 23.4% year on year to US$1.7 billion while net profit surged by 66% year on year to US$127.1 million.
Match Group (NASDAQ: MTCH)
Match Group owns a variety of dating apps such as the popular Tinder and OKCupid.
The company boasts more than 11.1 million subscribers to all its services, with Tinder being the world's top downloaded dating app.
Total revenue for 1Q2021 increased by 23% year on year to US$668 million, while operating income rose 38% year on year to US$189 million.
The company is also seeing healthy subscriber growth with average subscribers rising 12% year on year.
Members are also spending more, with average revenue per user chalking up 9% year on year growth.
Match is adding on to its suite of dating apps with the acquisition of Hyperconnect for US$1.7 billion in February this year.
Hyperconnect is a social discovery and video technology company that operates two apps: Azar and Hakuna Live.
Disclaimer: Royston Yang does not own shares in any of the companies mentioned.