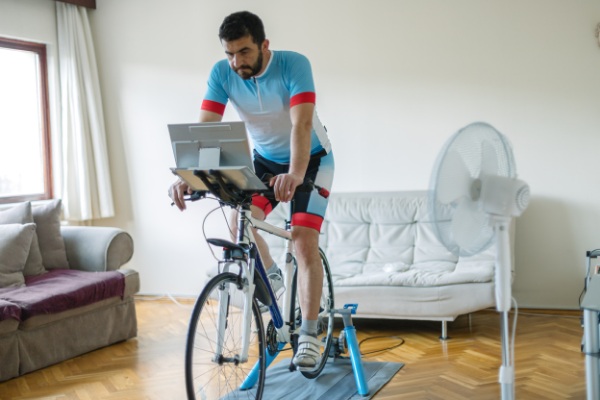 21 Feb

3 Stocks That Will Benefit Strongly from Work-from-Home Trends

It was an experiment the likes of which the world had never seen before.

Just a few years ago, if I had asked you to envision the bulk of the developed world working remotely from home, you would have scoffed at the idea.

Fast forward to today, and the COVID-19 pandemic has created just this scenario.

With numerous lockdowns and movement restrictions enacted to curb the spread of the disease, companies were compelled to allow their employees to work from home.

Fortunately, with widespread internet connectivity and videoconferencing capabilities, the experiment turned out to be successful.

Even after the pandemic has passed, businesses are now considering a hybrid model where employees rotate between telecommuting and coming into the office.

A wide swath of people has experienced the convenience and flexibility of telecommuting, and are unlikely to want to revert to the pre-pandemic model.

Here are three companies that should benefit if this trend is here to stay.
Zoom Video (NASDAQ: ZM)
Zoom provides a host of videoconferencing tools for video and voice meetings across a wide variety of devices such as desktops, laptops and smartphones.
The company has seen demand spike significantly as people turned to its cloud-based software to keep in touch with colleagues, friends and family.
With its easy-to-use and intuitive interface, Zoom is a hit with many businesses and individuals, and this has shown up in its numbers.
For the company's third-quarter 2020 earnings, it reported revenue of US$777.2 million, up 367% year on year from US$166.6 million.
Net profit soared close to 100-fold for the quarter, catapulting from just US$2.2 million to US$198.4 million.
Zoom continues to add customers at a rapid pace, and now has around 434,000 business customers with more than 10 employees, up 485% year on year.
The company also announced that it is expanding its presence in Singapore by opening a research and development centre here and doubling the capacity of its data centre.
Full-year 2020 results are slated to be released on 1 March.
If the telecommuting trend is here to stay, the company should enjoy many more years of consistent growth.
Netflix (NASDAQ: NFLX)
The flexibility that comes with working from home also means that more people have the time and energy to watch more television.
Watching movies and TV series is a way of releasing some stress from work and acts as a form of relaxation.
And there's probably no larger player than Netflix when it comes to streaming video-on-demand.
The streaming giant has an impressive library of movie and TV series that you can access with just the click of a few buttons within the comfort of your own home.
Netflix is also committed to producing even more original content to widen its lead over its competitors, with the company reporting that it has more than 500 titles in post-production or preparing to launch.
The company has even committed to releasing one new original film every week this year.
For the full fiscal year 2020, Netflix's revenue rose 24% year on year to US$25 billion and its net profit jumped by 48% year on year to US$2.8 billion.
A record 37 million paid memberships were added during the year, taking paid memberships past the 200 million mark.
Though the rate of addition may moderate this year, Netflix still has strong tailwinds working in its favour and should continue to post steady growth.
Peloton (NASDAQ: PTON)
Telecommuting may cause us to lead a more sedentary lifestyle as the need to travel to and from the office has been eliminated.
For those who worry about how you can continue to keep fit, Peloton has the answer to that problem.
The company sells fitness products such as treadmills and exercise bikes and also conducts workouts remotely using a subscription-based model.
For its fiscal 2021 second-quarter ended 31 December 2020, Peloton reported a more than doubling of its connected fitness subscriptions from 712,000 to 1.7 million.
Total workouts quadrupled from 24.3 million to 98.1 million over the same period.
The company also saw its membership base more than double year on year from 2 million to 4.4 million.
Subscription revenue rose 152% year on year to US$194.7 million for the quarter, though this only represented around 18% of total revenue.
The remainder came from the sale of exercise equipment, which saw revenue for the segment rose 123.6% year on year to US$870.1 million.
In December last year, Peloton acquired Precor, one of the largest global commercial fitness equipment providers in the world, for US$420 million.
The company hopes to tap on Precor's domestic manufacturing facilities to solve supply chain issues relating to the timely delivery of its products to customers.
With fitness and health more in focus these days, Peloton has the potential to post more growth in the years ahead.
SPECIAL FREE REPORT! 10 Growth Stocks to Supercharge Your Portfolio! We cover 3 unstoppable growth trends and the 10 stocks that will ride them in 2021 and beyond! CLICK HERE to download for FREE now!
Don't forget to follow us on Facebook and Telegram for some of our latest free content!
Disclaimer: Royston Yang does not own shares in any of the companies mentioned.