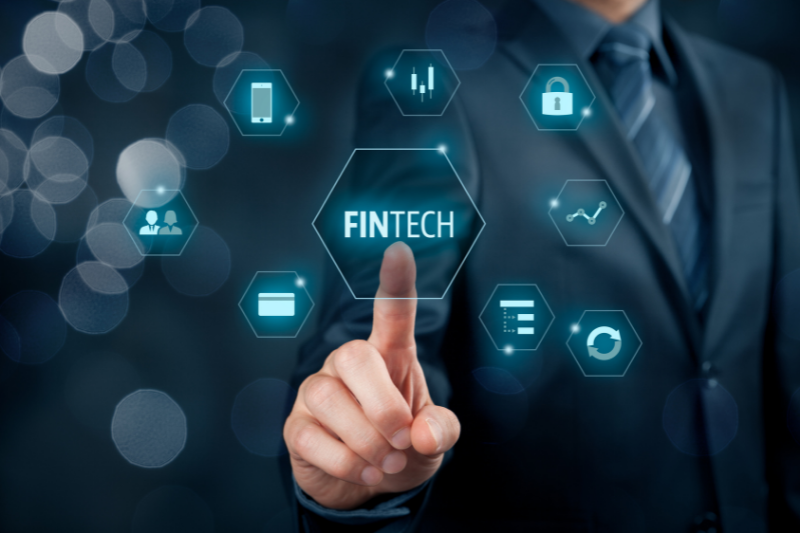 13 May

Why Fintech Can Fuel Stock Growth for Decades

The size of the fintech market differs depending on who you ask. 

For instance, PayPal (NASDAQ: PYPL) pegs its own addressable market at US$110 trillion. 

On the other hand, credit card network operator Mastercard (NYSE: MA) believes that there are US$255 trillion in payment flows up for grabs, ranging from consumer purchases, business to business payments, bills payments and more. 

You may haggle over the exact figure but there is an overarching point which you cannot deny: this market is worth many, many trillions of dollars. 

With a market that huge, multiple businesses can succeed. 
Trillion dollar markets supporting multiple winners
Oftentimes, the financial media portrays industry competition as a boxing match where only one business comes out on top. 
For instance, there's Visa (NYSE: V) duking it out with Mastercard for a share of the credit card pie. 
While head on head battles send pulses racing, the reality is there can be more than one winner in the space. 
For example, based on its latest results, Visa is on track to process an annualised US$14.5 trillion in payments volume, a figure that exceeds China's entire GDP. 
Despite the huge figure, it hasn't stopped Mastercard handling an annualised US$7.7 trillion on its own.   
Crucially, shares of Visa and Mastercard have risen 126% and 204%, respectively, over the past five years — a clear demonstration that there can be more than one winner when the market is worth trillions. 
Market opportunity multiples larger compared to existing revenue
You'll be forgiven if you think that Visa's growth runway will be limited in the future. 
After all, the annualised US$14.5 trillion that the company processes is significant. 
Then again, it's a fraction of the opportunity that Visa thinks is possible. 
The credit card giant sees US$185 trillion of money movement still relying on legacy cheques, wire transfers, and automated clearing houses (ACH). 
The implication is that the potential market is worth at least 10 times of what it is processing today, setting the stage for years of growth ahead. 
Expanding possibilities
On top of a long runway, Visa also believes that its market is unique. 
New vectors of growth, ranging from the modernisation of business to business (B2B) and business to consumer (B2C) payments to the rise of buy now, pay later (BNPL) as a new form of credit, are emerging.   
On top of that, the recent pandemic has also exposed new needs.
For instance, governments need a faster way to disburse stimulus checks quickly to support their economies, especially to individuals without bank accounts.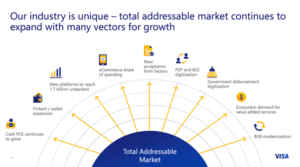 Source: Visa's Investor Day
As new needs appear and old problems are left unaddressed, there will be new players that are able to carve out a piece of the pie for their own.
With a market worth trillions, there is plenty of space for everyone. 
Case in point: online payment processor Stripe was founded in 2010, a mere 12 years ago, but has already processed an impressive US$640 billion in payments.   
Get Smart: The opportunity worth trillions
The NASDAQ Composite Index recently entered into bear market territory, sending shares of multiple fintech companies, both old and new, tumbling. 
In its wake, we are now able to pick up shares at lower valuations than before. 
Meanwhile, the businesses behind the stock continue to chug along. 
For its second quarter of the fiscal year ending 31 December 2021 (2Q'FY22), Visa posted revenue and profit growth of 25% year on year and 21% year on year, respectively.
Mastercard did one better, recording 24% year on year growth for its topline and 44% year on year growth for its bottom line.    
With borders reopening, cross border volume is set to rise again, lifting revenue higher. 
More importantly, the growth runway remains long, and the opportunities, numerous. 
Fintech is looking ready to take over the market by a huge margin. The trillion-dollar industry is dominating in multiple segments: Buy now pay later, online payments and wire transfers, just to name a few. But where do you start? Join our upcoming FREE webinar "Picking Your Stocks In Fintech's Trillion-Dollar Growth" and see what's worth your time and money. Seats are limited, so click here to save yourself a spot!
Follow us on Facebook and Telegram for the latest investing news and analyses!
Disclosure: Chin Hui Leong owns shares of Mastercard and PayPal.