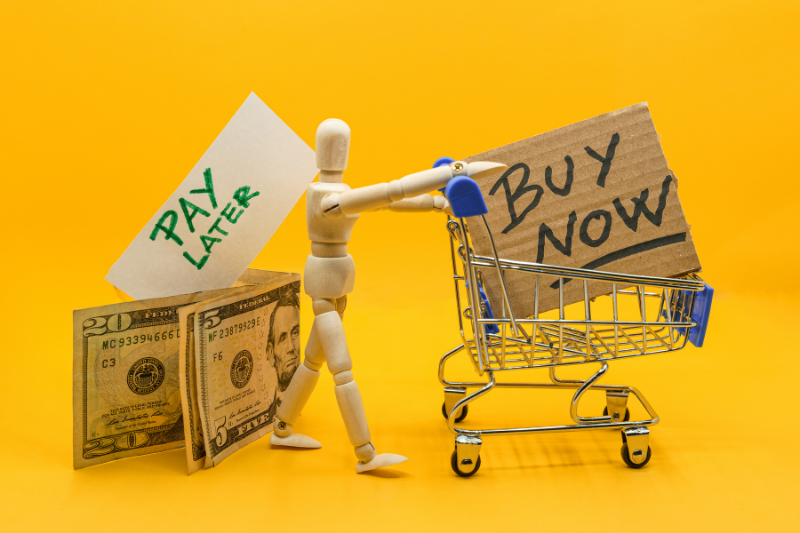 18 May

The 'Best of the Breed' in Fintech

The fintech space is getting crowded.

But while there are rivalries, businesses are also collaborating with one another.

We believe that there are good reasons for this behaviour.
1. Plenty of space for new winners
Visa's (NYSE: V) roots can be traced back to 1958.
Today, the world's largest credit card network is on track to process an annualised US$14.5 trillion in payment volume.
Visa's peer, Mastercard (NYSE: MA) is no slouch either.
Founded in 1966, Mastercard reported an annualised US$7.7 trillion in gross dollar volume flowing through its network.
In short, for both Visa and Mastercard, you have two established players with history stretching back over 55 years, processing multi-trillion dollar volumes.
Yet, despite the long history, newer fintech players have found space to call their own.
Take PayPal (NASDAQ: PYPL), which was started on the eve of the 2000 dotcom bubble, 42 years after Visa was founded.
Within 22 years, PayPal was handling an annualised US$1.3 trillion in total payment volume (TPV) across its multiple services.
For another example: privately-owned payments firm Stripe, which was established in 2009, had already processed US$640 billion in 2021.
Bottom line: while there are new fintech players, there is still potential to scale to significant, multi-billion dollar volumes.
2. Best of the breed
Meanwhile, as the fintech space becomes crowded, another trend is developing: collaboration.
Some call it "co-petition" (i.e. co-operation with competitors). Others refer to it as "frenemies" (a combination of the words "friends" and "enemies").
Call it what you want.
For us, the key is about interoperability.
Visa may exchange sharp elbows with PayPal but they also complement each other.
That's why, in 2016, both companies signed an agreement where PayPal agreed to make it easier for its customers to pay with their Visa cards on its network.
In exchange, Visa would enable PayPal's digital wallet to be accepted in all its physical retail locations.
In 2022, this partnership was expanded, demonstrating that competitors can work together for the greater good.
Similarly, buy now pay later (BNPL) companies such as Affirm (NASDAQ: AFRM) offer an alternative to credit cards.
Yet, according to Reuters, around 80% of BNPL transactions are repaid using debit cards issued by Visa and Mastercard.
3. It's about the customer
The reason behind these collaborations, in our view, can be traced back to the customer.
If you are a store owner accepting payments from your customer, it would not make sense to turn a customer away because you do not have the ability to settle a Venmo or credit card payment.
Shopify (NYSE: SHOP), a firm that helps merchants build an online store front, believes that the end goal of serving merchants should be its higher purpose.
Shopify CEO Tobi Lutke explained this point when asked about competition from Amazon (NASDAQ: AMZN):
"… we are happy to integrate this [Amazon's new Buy with Prime] into Shopify, just in the same way how we integrated what — the infrastructure that Meta (NASDAQ: FB) built, the infrastructure that Google built and the infrastructure that TikTok built and so on.
So this fits perfectly into our world view.
And it's not nearly as zero-sum as some people make it out to be.
Whatever is good for merchants is — that will cause more entrepreneurship, which is exactly — helps the vision of a company."
The good news is that there is a growing number of needs that can be fulfilled by aspiring fintech companies, as shown in the slide below.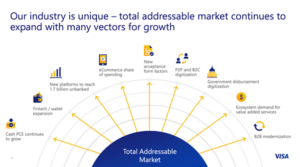 Source: Visa's investor day presentation
While the slide above is from Visa, it's not a given that the credit card network company will be the 'best of the breed' solution for each growth vector.
As consumers ourselves, we may have different preferences when it comes to fulfilling our different financial needs, which can range from peer-to-peer (P2P) payments, digital wallets, and overseas fund transfers.
The same, we believe, will apply to merchants.
As such, for investors, there will be plenty of opportunities to invest in the best of the breed companies for every growing sector.
How do you decide if a growth stock is worth your money? There is no shortage of stock ideas today, but is a particular stock suitable for you? Find out more in our latest FREE report, How To Find The Best US Growth Stocks For Your Portfolio. Click HERE to download the report for free now! 
Follow us on Facebook and Telegram for the latest investing news and analyses!
Disclosure: Chin Hui Leong owns shares of Mastercard, Shopify, Alphabet, Amazon, and Meta Platforms, and PayPal.