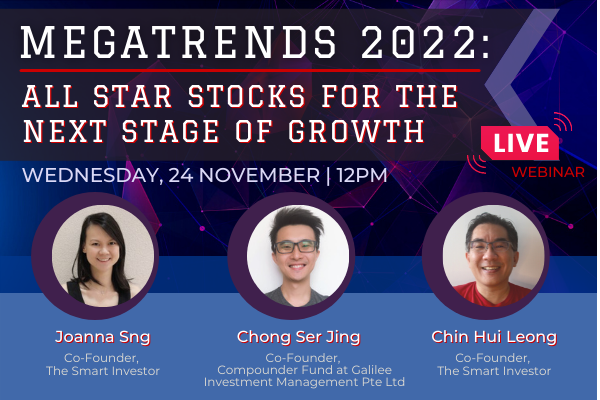 10 Nov

Megatrends 2022: All Star Stocks for the Next Stage of Growth

The rising cost of living is a hot topic around the globe as we head into 2022. Is inflation a temporary effect or something longer-lasting?

The main concern of inflation is that it will slow growth down in the major global economies, which will ripple around the world.

But we believe that this is sector dependent. Many companies cannot afford to pass the higher costs they experience through inflation onto the consumer – with some exceptions.

And we've identified 2 sectors for which, their pivotal "moment" has arrived.

Fintech has reached mass adoption. 

Consumer use of fintech services ranging from banking, payments and investing has reached a critical point where it has become as common as the internet itself, according to a survey by Plaid.

We see it happening in our everyday lives. 

Digital payments have gone from "nice-to-have" to being a "must-have" essential service for merchants ranging from your local kopitiam store to high-end, Michelin-starred restaurants.

Here's the thing: despite the immense progress in adoption, we are still only scratching the surface of an addressable market that is worth north of US$100 trillion.  

The Genomics Growth Gene 

At the same time, genomics is experiencing its own pivotal moment. 

A new test was recently launched, GRAIL's Galleri test, that is able to detect more than 50 cancer types, of which 45 have no prior tests. 

The implication is significant — cancer is the leading cause of death in Singapore. 

It's no wonder that GRAIL has been on the Singapore Ministry of Health's (MOH) radar for many years. In September, the UK's National Health Service (NHS) launched the world's largest Galleri trial.

If successful, cancer diagnostics will take a giant leap forward. 

For investors, it's a US$75 billion market that is largely untapped. 

… and that's just one of the many nascent markets that the use of genomic technology promises to change for the better.  

Want to learn more about the stocks that will ride these 2 megatrends in 2022? Join us for a FREE webinar on 24 November to learn more!