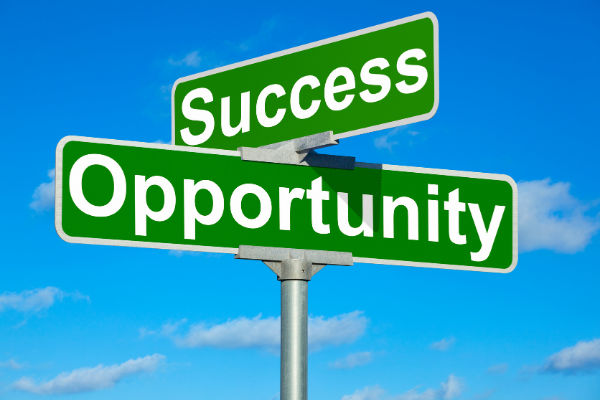 14 Feb

Growth Stocks Amid an Uncertain World

There is no shortage of worries to go around in the world today.   

Inflation is on top of investors' minds. 

Prices of electricity, food and property are rising in Singapore with a possible GST hike yet to come. 

Meanwhile, the drum beats for a Fed Rate increase are getting louder. 

Analysts are tripping over each other trying to predict the number of hikes this year. 

In fact, economists from Bank of America (NYSE: BAC) are going as far as to suggest that there could be as many as seven quarter-percent point rate hikes in 2022.   

Despite the worries, the urgency to invest remains. 

Sitting on cash alone will guarantee that your cash will be worth less in the future. 
Cloud computing: the intersection of opportunity and success
US growth stocks have taken it on the chin since November last year. 
But amid the carnage lies opportunity. 
We believe that cloud computing sits in a coveted sweet spot: the intersection between an established industry and the opportunity to grow more in the future. 
Unlike other growth trends that are still in their infancy, cloud computing is already an established industry.
Gartner estimated that US$604 billion was spent in enterprise software in 2021.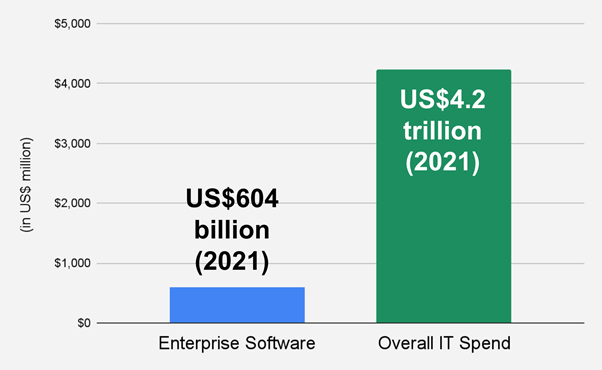 Source: Gartner
If you extend your horizon further, you'll find that the global IT spend was worth over US$4.2 trillion dollars last year. 
Within the industry, there are established companies with long track records. 
The Cloud Titans
Among the largest companies in the software-as-a-service (SaaS) space is Salesforce (NYSE: CRM), a 22-year old company led by co-founder and CEO Marc Benioff. 
Over the last 12 months (TTM), the SaaS giant drew in over US$25 billion dollars in sales. 
Yet, despite its size, Salesforce believes that its market opportunity will be worth US$248 billion by 2025. 
In short, even for a SaaS business with the scale of Salesforce, it only has a 10% market share, leaving plenty of room for further growth. 
Meanwhile, software giant Microsoft (NASDAQ: MSFT) is showing no signs of slowing down.
Founded in April 1975, almost 47 years ago, the Redmond-based company posted revenue growth of 20% year on year in its latest quarter, bringing in nearly US$52 billion. 
The key driver behind this growth is Microsoft Cloud.
Microsoft's collection of cloud-based software, including Azure, drew in US$22.1 billion in revenue for the reporting quarter, up 32% year on year. 
Most of all, the pace of Microsoft's topline expansion is impressive, given that it is already drawing in a massive US$185 billion in revenue and over US$71 billion in net profit over the past 12 months. 
Get Smart: The Sweet Spot
In summary, there are three main takeaways from the above:
We believe that cloud computing continues to be a promising trend to invest in.

You need great companies to help turn this trend into reality.  

The recent beaten-down stock prices present an opportunity for the patient investor.
At The Smart All Stars Portfolio, we feel that Cloud Computing is a trend that we just cannot ignore. 
We want to pick the winners of tomorrow from this undeniable trend for our portfolio. And we believe these shining star stocks will bring our portfolio to new, dazzling heights.
You don't need any hidden formulas or special criteria to uncover 10x stocks. You don't even have to buy stocks during a market downturn. But you must possess 3 traits to maximise your chances. What traits are they? Find out in the FREE report "Your Personal Blueprint to Finding the Next 10x Stock" Click here to download now.
Disclosure: Chin Hui Leong owns shares of Salesforce and Microsoft.