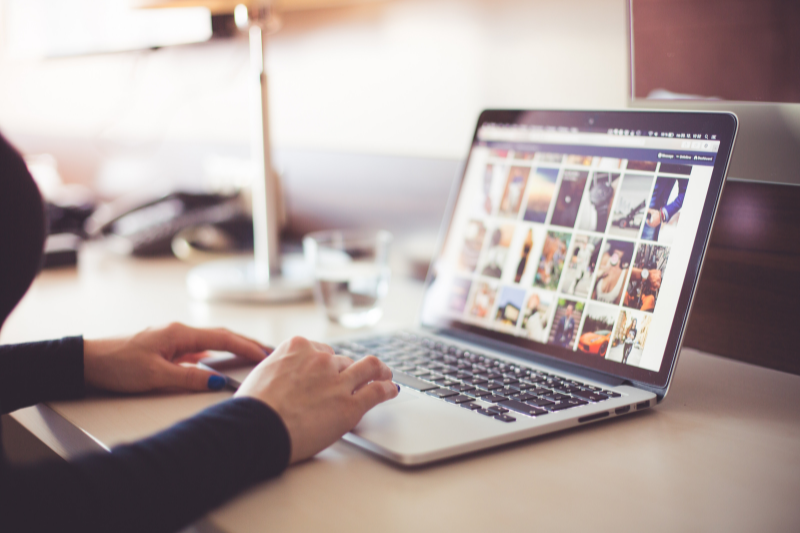 01 Sep

Get Smart: Why You Could be Missing Out on The Biggest, Most Obvious Growth Trend Ever

In December 2012, Gangnam Style, a song by Korean rapper Psy, became the first-ever YouTube video to hit a billion views.

The achievement was extraordinary, given that there are only 75 million people in the world who speak Korean.

Today, less than nine years later, this astonishing statistic has become far more common.

According to Wikitubia, there are well over 200 videos with a billion views.

The top YouTube video, Baby Shark Dance by Pinkfong, has over nine billion views.

At the same time, achieving a billion-view count has never been faster.

PinkFong's video is less than five years old.

In short, the scale of distribution which was once thought to be astounding is now becoming commonplace.

And it's happening fast, right in front of you.
The internet saves the world
Welcome to the world of internet-scale companies.
Over the past 25 years, access to the internet has proliferated across the globe.
The introduction of the iPhone in 2007 was a major impetus, driving the number of netizens worldwide to over five billion by 2020.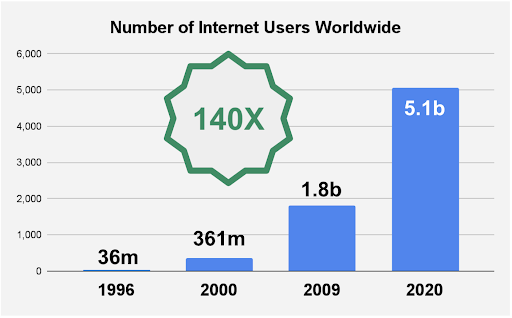 Source: Internet World Stats
"I must have talked to a hundred CEOs through that initial period, and they were uniformly shocked at how well remote work worked, right from the start."
— Venture capitalist Marc Andreessen
At present, we are able to connect with each other like never before.
And as it turns out, this connection became crucial last year as lockdowns took hold.
Venture capitalist Marc Andreessen said that technology prevented companies providing critical services such as banking, insurance, communications, media or healthcare from suffering any major downtime.
Think about it for a moment.
During the circuit breaker last year, we were able to continue banking online.
When we were asked to stay home, we could still order our food or necessities online.
The Singapore government was able to keep the population up to date with daily messages sent through Whatsapp.
This connection also means that online businesses literally have a direct path to the phone in your pocket, your purse or in the palm of your hands.
And that also means opportunity for investors like you and me.
Scale, at the internet level
Apple (NASDAQ: AAPL) became the first trillion-dollar company in the world in 2018.
Today, there are five US-listed companies that have breached that trillion dollar mark: Apple, Microsoft (NASDAQ: MSFT), Amazon (NASDAQ: AMZN), Alphabet (NASDAQ: GOOGL) and Facebook (NASDAQ: FB).
The common theme that runs through the quintet above is that the group has leveraged the internet to distribute its products and services.
Thing is, I do not think that the trillion-dollar club will be exclusive to the five companies above.
With the scale that the internet offers today, we are likely to see several more companies achieve and exceed that coveted milestone.
Microsoft CEO Satya Nadella certainly believes so, pointing out a simple statistic:
"Today, five percent of the world's [gross domestic product] is spent on tech.

In 10 years' time—in fact, this COVID crisis may have accelerated it—that's going to be 10 percent.

We are lucky enough to be in an industry that's going to double …"
His message: if you think growth is over, you might want to think again.
The online world is your oyster
Just like how Psy, a Korean rapper, is able to reach across geographies with ease, the opportunities for Singaporeans to invest are no longer confined to our shores.
From where we stand, the chance to build a portfolio filled with internet giants, high-potential companies, and young upstarts is open for all of us.
The pay-off can be enormous.
Here's the thing …
I have been a shareholder of the big As — Apple, Alphabet, and Amazon — for over a decade each, and the returns of each stock have gone beyond what I thought was possible.
My earliest shares of Alphabet are up by more than 10x.
Likewise, shares of Apple are up over 16x.
And Amazon tops the list with a 27x return on my initial investment.
I am sharing the returns above to let you know what's possible if your time horizon is channeled towards the long term.
Build your own growth portfolio
At The Smart All Stars Portfolio, we walk the talk.
When we say that we believe in our investment approach, we back it up with real money, invested in full view, exclusively for our members.
We demonstrate that our approach works in real life, and not just on paper.
All of our past decisions and thoughts are documented and transparent.
Today, we believe that the opportunity remains high to put together a selection of companies that can outperform even our own imagination.
Finding good stock ideas is one thing …
Being able to take advantage of the opportunities is another.
Turning good ideas into real returns requires you to put together a portfolio, tending to your select crop of stocks when necessary, and most of all, having the fortitude to hold for the long term.
In just a few days, we're reopening The Smart All Stars Portfolio – a popular service among growth investors. Inside this portfolio are over 21 U.S. stocks ready for you to buy and hold. Some are iconic names with strong, stable financials. While some are riding on hot, exciting trends with a huge runway for growth. To discover the full details of these stocks, raise your hand here to let us know. You'll send you an invitation to our reopening event!
Follow us on Facebook and Telegram for the latest investing news and analyses!
Disclosure: Chin Hui Leong owns shares of Apple, Alphabet, Amazon, Facebook and Microsoft.