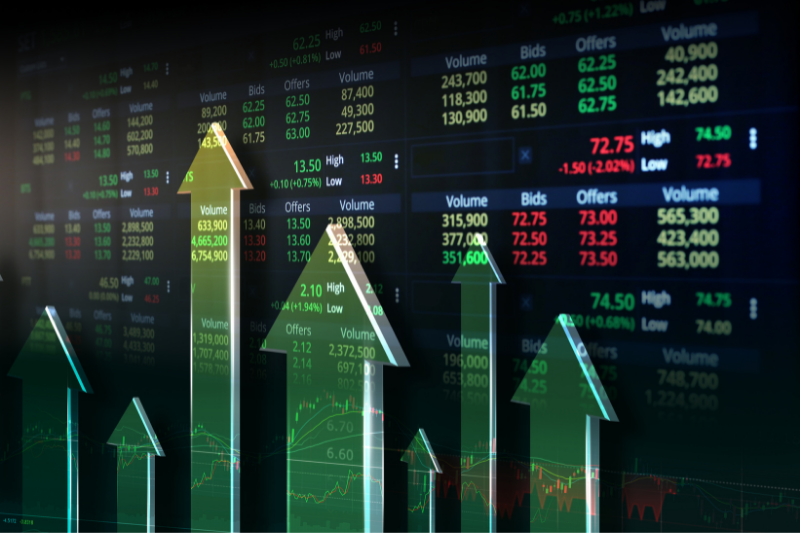 16 Feb

Get Smart: Missed the 2020 Rally? Here's Your Chance

The US stock market has more than doubled since 23 March 2020. 

If you have missed the opportunity to buy — well, here's your chance. 

Let's not forget that the situation looked grim 22 months ago. 

Uncertainty was high and thus, stocks were sold off. 

But here's the thing … 

Sellers who dumped their shares in March 2020 are NOT doing so because they knew what was happening. They did so because they DIDN'T KNOW what was going to happen, and assumed the worst.

Looking back, we can say that selling stocks was absolutely the wrong thing to do. 

Because here's what happened next …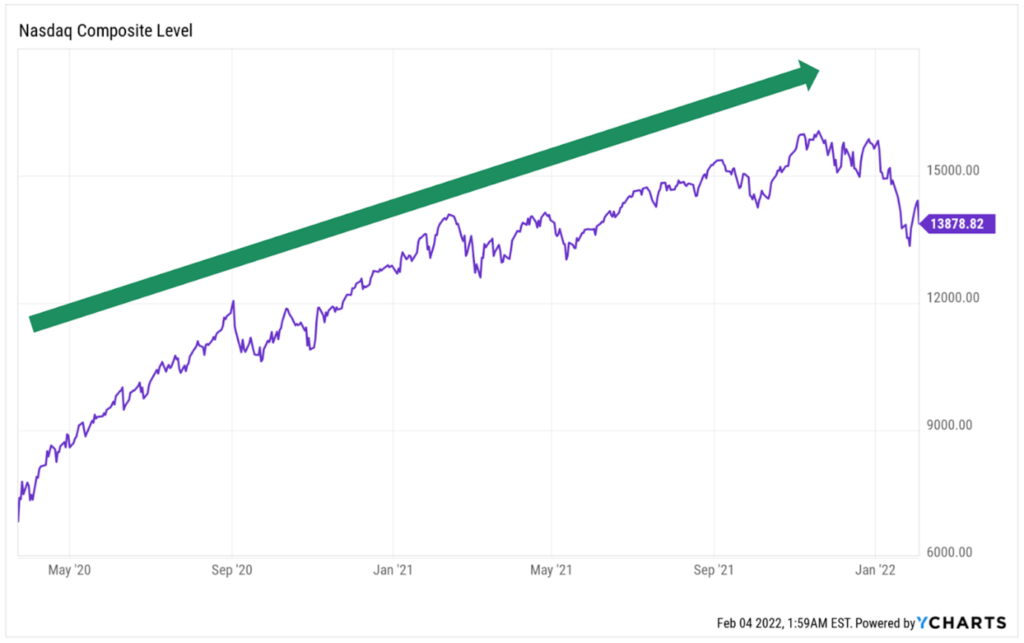 The same can be said about today's stock market.
Two words: don't sell
The more share prices decline, the more bullish I become. 
And stocks on the NASDAQ are selling off again for the past four months. 
According to Bank of America (NYSE: BAC), nearly five out of every 10 stocks on the tech-heavy index have lost at least a half of their value. 
As it often happens, when share prices fall, the negative narratives get more air time …  
"Stock market sell-off: Investors run to bonds"

"Big sell-off on Wall Street as fears of global crises weigh"

"From Asia to Wall Street: China's stock market meltdown goes global"

"1937: The Ghost That Haunts Wall Street"
These unforgiving headlines are enough to scare any investor into pulling out their money. 
But just like March 2020, the stock sellers will come to REGRET doing so. 
You see, these are NOT today's headlines, but from 2014 to 2015. 
Much like today, this was a period when the US Federal Reserve was contemplating increasing interest rates. 
As it turns out, the Fed eventually did so in December 2015 … 
…. and what happened to the NASDAQ?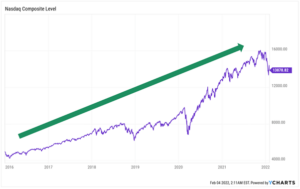 If there's one thing we know for sure, it's that selling due to scary headlines is often the wrong move to take.  
The opportunity right in front of your eyes 
In the short term, the financial media will be preoccupied with all sorts of reasons to justify stock price declines. 
You may have heard some of them from the past few months… 
"Markets sell off as a yield spike hits tech stocks"

"Stock investors are getting worried about supply chain"

"Pandemic stock winners now losers as WFH ends"

"Wall Street extends sell-off on fears of longer-term inflation wave"
… but as we learnt from the past, the inane focus on the near term often comes at the expense of the powerful, long-term trends happening right in front of our eyes.  
Take 2016. 
As the newspaper headlines waxed lyrical about the interest rates and China's meltdown, the world added 1.4 billion new internet users between 2016 and 2022 …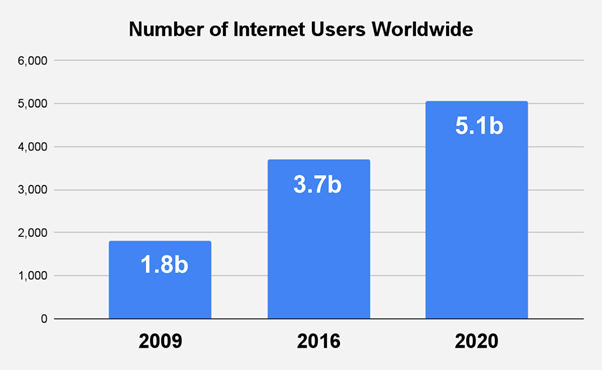 Source: Internet world stats
… a trend so powerful that it has made a pleasing mockery of short-term concerns. 
Along with this growth, the internet giants we know well today have flourished into trillion dollar juggernauts.  
Shares of iPhone maker Apple (NASDAQ: AAPL) have risen by over 650% since 2016. 
Amazon (NASDAQ: AMZN) shares have increased by over fourfold over the same period. 
Not to be undone, investors in Microsoft (NASDAQ: MSFT) have netted 550% in capital gains since 2016.     
Get Smart: A strong stomach amid volatility 
"In the stock market, the most important organ is the stomach. It's not the brain." 

— Peter Lynch
In the short term, falling stock prices will feel horrible. 
But it shouldn't distract us from focusing on the right things: the right companies, with the right business models, taking advantage of the trends that are continuing to happen around us. 
The more share prices decline, the more bullish we become. 
We are choosing to look past the short term concerns and focus on the only time horizon that truly matters: the long term.   
For 2022, we will be putting our money where our mouths are and committing 50% more cash to be invested compared to 2021. 
What stocks are we buying this year? All will be revealed inside The All Stars Portfolio.