24 Nov

Genomics's Pivotal Moment: How You Can Profit from This Megatrend

Cancer is the leading cause of death in Singapore.

Unfortunately, our nation is not alone in that sad statistic. Every year, 10 million people die from cancer, including 600,000 in the US alone.

The key to reducing cancer deaths is early detection.

Unfortunately, around 71% of current cancer-related deaths have no recommended screening tests.

This is why the launch of GRAIL's Galleri test is so important.

By looking for fragments of genetic code from the tumours in the patient's bloodstream, GRAIL is able to diagnose more than 50 types of cancers with a 93% accuracy.

More importantly, 45 of these 50 cancers had no prior screening tests.

In other words, we could be at a pivotal point where early cancer detection could save 10 million lives every year.
Diagnosing the opportunity
GRAIL is owned by Illumina (NASDAQ: ILMN).
The cancer screening opportunity, where Galleri competes, is projected to be worth US$46 billion by 2035.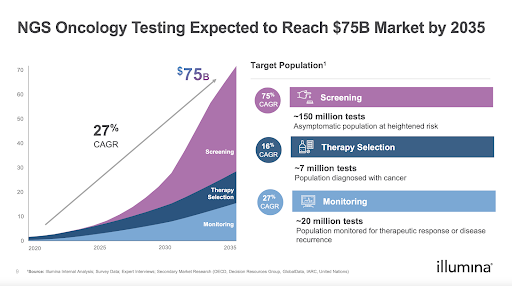 Source: Illumina's investor presentation
Another key area in oncology would be comprehensive genomic profiling (CGP).
CGP is a companion diagnostic for the cancer therapy selection market.
The product is used with over 55 oncology therapies and can help pathologists identify the right treatment for existing cancer patients.
The cancer therapy market is expected to be worth more than US$14 billion by 2035. If the tests are extended to the cancer monitoring market, there is another US$15 billion in opportunity.
Beyond early cancer detection, there are another two key areas of growth for genomics to watch.
Growth area #1: Population genomics
Population genomics are national-level gene-sequencing programmes that seek to better understand how genes contribute to our health and well being.
These large-scale initiatives are typically run as a collaboration between governments, medical and research communities, and gene-sequencing providers.
Interest in population genomics is rising.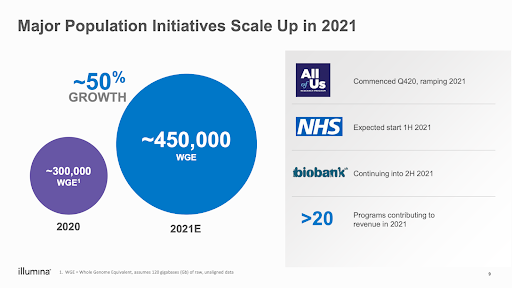 Source: Illumina's 2021 JP Morgan healthcare conference investor presentation
For Illumina, these initiatives are expected to ramp up by 50% year on year, driven by the NHS and the US National Institute of Health's (NIH) All of Us research programme.
Growth Area #2: Clinical genomics
Clinical genomic solutions include non-invasive prenatal testing (NIPT), IVDs (in-vitro diagnostics; or tests using blood or tissue samples) and diagnostic tests for genetic disease.
Adoption for these tests increase when there are healthcare reimbursements provided to the patient.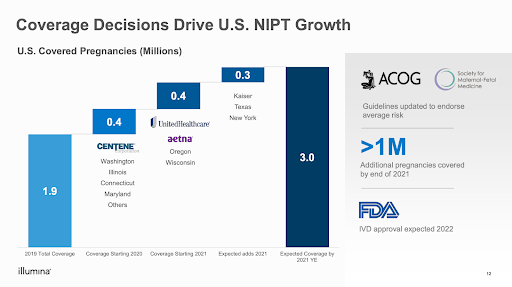 Source: Illumina's 2021 JP Morgan healthcare conference investor presentation
On that note, there is positive news.
For 2021, Illumina expects three million pregnancies to be covered for NIPT, up 50% from the 1.9 million pregnancies covered in 2019.
In addition, the company expects coverage for genetic disease tests to increase 10-fold from 2019, with an estimated 169 million people available for reimbursement by the end
of 2021.
The opportunity is huge, with less than 1% of the 300 million people with genetic diseases sequenced so far.
All these point towards higher adoption in the future.
After years of investing, we found that successful growth investing depends on 3 core mindset shifts. And by adopting these into your investing strategy, you'll massively boost your chances of finding your next 10X stock. Our latest report shows you how to use them in your investing journey. Click here to download it for free.
Follow us on Facebook and Telegram for the latest investing news and analyses!
Disclaimer: Chin Hui Leong owns shares of Illumina.