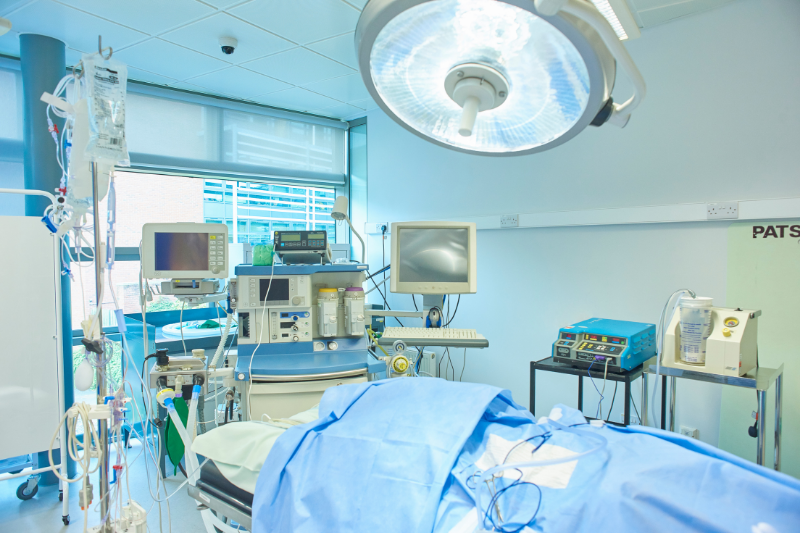 19 Dec

From Robots to the Metaverse: How Intuitive Surgical is Changing the Face of Medical Surgery

Dr Frederick Moll is not a household name.

To the common man, he may be better known as Bill Gates' classmate.

But in the world of robotic surgery, Dr Moll is a giant in his own right.

He was involved in the founding of no fewer than five robotic surgery companies.

His biggest success was with Intuitive Surgical (NASDAQ: ISRG) which he co-founded with Robert Younge in 1995.

As a shareholder in Intuitive Surgical since 2010, I have watched it champion the growth of the robotic surgery market for over a decade.

Here are 10 things I have learnt.
Surgery 3.0
Traditional open surgery is still widely used but has its disadvantages.
Large incisions are needed, resulting in patient discomfort during recovery and a long, costly hospital stay.
The second generation of surgeries, termed minimally invasive surgery (MIS), enabled select surgeries to be done using small incisions, reducing trauma on the patient.
However, MIS was not widely adopted due to limitations in the surgeon's ability to maneuver during surgery.
Intuitive Surgical, with its da Vinci surgical robot, was designed to deliver the best of both worlds by keeping the MIS benefits of a small incision while equipping the surgeon with the freedom of hand movement similar to open surgery.
Finding the early adopters
From the start, Intuitive Surgical focused on early adopters by targeting key medical institutions and leading surgeons.
Key institutions, such as large multi-care hospitals, have the capacity to handle complex surgical procedures, while the leading surgeons have an interest in maintaining their competitive edge in their respective specialties.
To aid adoption, the system was designed to be simple to learn.
Surgeons are able to manipulate the controls in a manner similar to how they were trained in open surgery.
Thus, the training period was short, enabling faster adoption.
Patient education
Beyond hospitals and surgeons, Intuitive Surgical also made patient education a key focus.
The prospect of smaller incisions, shorter recovery times with less complications proved to be a compelling factor for patients that need surgery.
Its focus on surgery outcomes had the desired effect.
As more patients demand less invasive surgery, hospitals and surgeons are more inclined to adopt the da Vinci system.
In 2000, Intuitive Surgical went public with just 16 da Vinci systems sold. Two decades later, the company had an installed base of almost 6,000 systems worldwide.
From niche to mass market
Intuitive Surgical's first breakthrough use case was in prostatectomy which started gaining traction in 2004, quickly becoming the leading treatment choice for localised prostate cancer in the US by 2008.
From there, the da Vinci platform expanded to hysterectomy in 2005, which went on to surpass prostatectomy procedures on its surgical platform by 2010.
The next key category was general surgery.
Between 2010 and 2020, the number of general surgeries in the US performed with the da Vinci system grew from 10,000 to over 434,000.
For a sense of scale, last year, there were 1.24 million surgical procedures done on its platform, a clear indication of mass acceptance of robotic surgical procedures.
As the first mover, Intuitive Surgical commands an estimated 80% market share in the global surgical robotics market.
Razor and razor blade model
Intuitive Surgical operates based on a razor and razor blade business model.
With a strong installed base of da Vinci systems (razors), there will be sustained demand for its instruments, accessories, and services (razor blades).
The first sign of an enduring business model emerged in 2005 when the company revealed that 45% of its revenue came from recurring sales of its instruments and accessories (per surgery use), along with services.
The rapid proliferation of surgical procedures on its platform drove recurring sales higher.
For the first nine months of 2021, Intuitive Surgical generated almost three quarters of its revenue from recurring demand for instruments, accessories and services (razor blades) and is now less reliant on one-off system sales (razor).
Short sellers falling short 
Intuitive Surgical's rise was not without hiccups along the way.
In December 2012, short seller Citron Research caused a commotion by targeting Intuitive Surgical, predicting that share prices will fall to below US$28 (split-adjusted) within 18 months.
Shares of Intuitive Surgical, which were trading at above US$60 at the time, reacted negatively, falling under US$40 over the next one and a half years.
But shares never touched US$28 even after Citron's report.
Investors who sold in panic or were waiting for the short-seller's target price to begin buying will be rueing the fact that Intuitive Surgical shares trade at nearly US$345 today, almost six times more than where it was before the short seller's attack.
Keep it simple
Between July 2005 and January 2006, a period of five months, US investing site The Motley Fool documented eight buy and sell calls on Intuitive Surgical by TV personality Jim Cramer.
During this period, he rated the shares as a sell three times.
Interestingly, investors who ignored Cramer's calls, and simply held shares from July 2005 to today would have turned every dollar to over US$50.
The lesson: keep it simple, tune out the short-term noise.
You save on trading fees, too.
The robots are coming
As robotic surgery becomes mainstream, more companies are getting involved.
In 2013, Stryker (NYSE: SYK) acquired MAKO Surgical, the maker of robotic arms used for joint replacements.
Last year, Stryker held a 9% market share in the global robotic surgical market.
Meanwhile, Johnson & Johnson (NYSE: JNJ) flexed its financial muscles with a US$3.4 billion purchase of Auris Health, manufacturer of the Monarch platform for lung cancer diagnosis.
Not to be outdone, Medtronics (NYSE: MDT) threw its hat into the ring by acquiring Mazor Robotics, a robotic guidance system for spinal surgeries, while developing its own competing robotic surgery assistant, Hugo.
Size is relative
While the space is getting crowded, Medtronic believes that only 3% of the world's surgical procedures are aided by robotics.
That leaves plenty of room for multiple winners.
Intuitive Surgical sees a line of sight to a market of six million surgeries worldwide based on the current products and regulatory clearances it has today.
On a broader scale, the surgical robot company believes that there is a market for approximately 20 million procedures annually, over 16 times the number of surgeries occurring on its platform in 2020.
Into the surgical metaverse 
As new competitors jump in, the battleground is shifting towards the virtual world.
For instance, Intuitive Surgical uses virtual reality (VR) to provide training for its da Vinci system.
The firm also has IRIS, an augmented reality imaging solution that uses machine learning algorithms to provide surgeons with critical image details for surgical planning and as a teaching tool.
Meanwhile, Stryker has partnered Microsoft (NASDAQ: MSFT), using the latter's HoloLens to render 3D images of operating theatres and optimise the floor plan.
With over a million surgeries performed on the da Vinci platform every year, the data generated could lead to new use cases beyond the surgeries done on its platform.
In the metaverse, the future is only limited by our dreams.
Note: An earlier version of this article appeared in The Business Times.
Finding your next 10X stock is surprisingly within your reach once you've mastered 3 core mindset principles. What are those? Find out more in our latest special report: "Your Personal Blueprint to Finding the Next 10x Stock". Click here to download it for free.
Follow us on Facebook and Telegram for the latest investing news and analyses!
Disclosure: Chin Hui Leong owns shares of Microsoft and Intuitive Surgical.