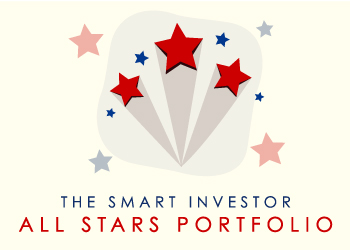 04 May

FREE WEBINAR: 3 Rising US Stars

The US stock market is filled with strong opportunities to grow your wealth.. but it is also filled with potential pitfalls.

Our new service, The Smart All Stars Portfolio, will showcase how we pick 15 stocks in 8 months to build a wealth growing portfolio from the ground up. We have already made our stock selection for May 2020 – but we haven't bought it yet.

Before we launch The Smart All Stars Portfolio, we'd like to invite you for a special webinar session with our co-Founders David Kuo and Chin Hui Leong. Seats are limited, so do sign up before we run out.

In the webinar, they will be discussing 3 rising US growth stocks. One of these stocks will be our pick for The Smart All Stars Portfolio next week.

The webinar will be held on Wednesday, 6 May 2020 at 8pm.

We are also opening up for questions around these 3 stocks before the webinar. Please note that only questions surrounding the 3 stocks will be discussed.

If you have any questions for our panelists, we highly encourage you to submit them before the webinar commences so that we can consolidate similar questions.  We'll try our best to answer all the questions that come in, but if there are an overwhelming number of questions, we will answer the most popular ones.

Without further ado, here are the 3 candidates.
Stock 1: Facebook (NASDAQ: FB)
For those of you who use social media, Facebook should be no stranger to you at all. The company operates as a social networking business that not only operates the iconic Facebook but also owns the photo and video-sharing Instagram and chat program WhatsApp. These social media applications help to connect people through mobile devices and computers and allow them to share ideas, news, comments, photos and videos.
Facebook has demonstrated solid growth over the years. Revenue was just US$7.9 billion back in 2013 but has risen over nine-fold to US$70.7 billion just six years later in 2019.
This increase represents a compound annual growth rate (CAGR) of around 44.4%. Net income has increased twelve-fold from US$1.5 billion to US$18.5 billion over the same period, generating a CAGR of 52%.
Facebook's operating metrics include daily average users (DAU) and monthly average users (MAU). DAU has increased from 1.09 billion to 1.73 billion from the first quarter of 2016 to the first quarter of 2020, for a CAGR of 12.3%, while MAU has increased at about the same pace, from 1.65 billion to 2.60 billion over the same period.
Stock 2: Microsoft (NASDAQ: MSFT)
Microsoft is a US-based technology company that develops, manufactures and sells a variety of computer hardware, software and consumer electronics.
The company was founded by Bill Gates and Paul Allen back in 1975 and has grown to become one of the world's largest information technology companies. Microsoft owns Skype networking software and also the iconic Microsoft Office suite of word processing, spreadsheet and presentation software that is almost ubiquitous in homes and offices around the world.
Microsoft continues to grow its revenue and net income even though it is now a behemoth in the IT sector. The company is valued at more than US$1.3 trillion currently. Revenue increased from US$86.8 billion in fiscal 2014 to US$125.8 billion in fiscal 2019, for a five-year CAGR of 7.7%. Net income jumped from US$22.1 billion in 2014 to US$39.2 billion in 2019 for a CAGR of 12.1%.
Gross margin improved by two percentage points for the third quarter of fiscal 2020 to 69%, while operating income margin stood strong at 37%.
The company reported minimal impact from COVID-19; in fact, the pandemic has increased cloud usage driven by more work and study from home arrangements, while also increasing demand for remote work, thus boosting demand for Microsoft's suite of products and services.
Stock 3: Salesforce.com (NYSE: CRM)
Salesforce.com is a market leader in customer relationship management (CRM) software.
The company provides subscription and cloud-based tools for its customers to sell, market and manage support services. Salesforce.com has over 150,000 customers currently.
The company has more than quadrupled its revenue over the last six years. Revenue soared from US$4.07 billion in the fiscal year 2014 to US$17.1 billion in the fiscal year 2020 (FY 2020). Salesforce.com eked out a small net income of US$126 million for FY 2020.
The company has remaining performance obligations of around US$30.8 billion, up 20% year on year, and its FY 2021 guidance is for revenue growth of 23% year on year. Salesforce.com continues to gain market share over competitors such as Oracle (NYSE: ORCL) and SAP SE (ETS: SAP), with a 17.3% share of the CRM market versus 5.5% and 5.3%, respectively. Importantly, the total addressable market for CRM solutions stands at US$168 billion and continues to grow at low double-digit CAGR.
Remember to block your calendar for tomorrow, and we hope to see you at the webinar!
Here are the details again.
The webinar will be held on Wednesday, 6 May 2020 at 8pm.