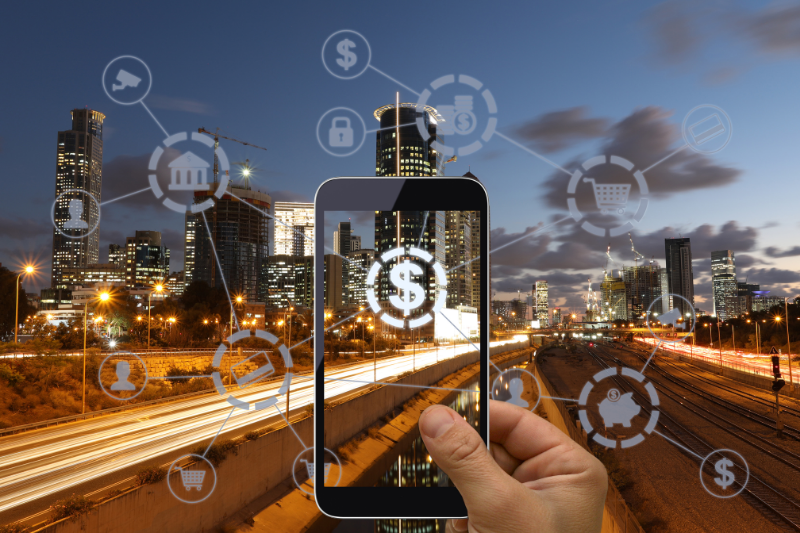 17 Nov

Fintech's Mass Adoption Moment is Here with Trillions at Stake

Digital payments are not new.

ln Singapore, GIRO payments have been around since 1984.

But at the onset of the pandemic, what was once thought to be a "nice-to-have" service has since turned into a "must-have" essential service.

The difference in fintech adoption between the pre-COVID era and today is stark.

According to an October 2021 report by Plaid, a financial services platform, fintech adoption has reached mass adoption in 2021.
Here's a key paragraph from the report:

The percentage of US consumers using technology to manage their finances jumped 52% year-over-year, from 58% to 88% (86% in the UK).

In comparison, more people now use fintech than video streaming services (78%) and social media (72%), placing fintech among the most widely adopted consumer technologies outside of the internet (93%).
The fintech adoption percentage is also coming close to parity with traditional banking, where according to US FDIC, 95% of US households have a bank or credit union account.
Plaid's reports sync with the growth in payment volume which we are seeing at fintech firms PayPal (NASDAQ: PYPL) and Square (NASDAQ: SQ).
Total payment volume (TPV) at PayPal has more than doubled from around US$451 billion in 2017 to a massive US$1.1 trillion for the last 12 months ending at 2021's first half.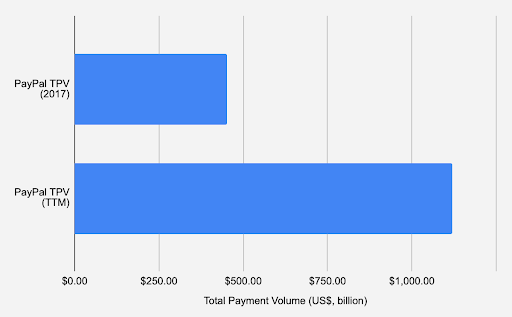 Source: PayPal's earnings report
Meanwhile, Square is also experiencing its own boom with gross payment volume (GPV) soaring from around US$65 billion to almost US$140 billion over the same time frame.
It's hard to ignore when both fintech firms are posting record numbers.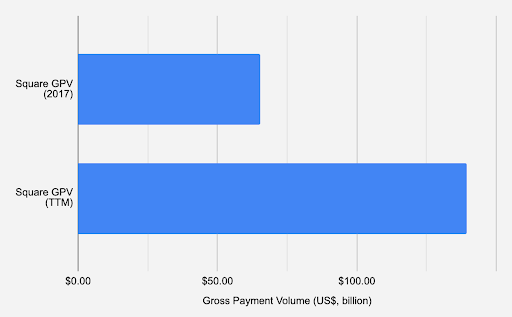 Source: Square's earnings report
Yet, even with the massive gains in adoption, the market for fintech remains nascent.
Digital payments act as the gateway to other financial services that have eluded the unbanked population in the US, including loans, financial budgeting, investing and more.
Crucially, despite the widespread fintech adoption, individual financial services adoption has yet to reach critical mass.
In addition, there's plenty of upside left, given the trillion-dollar scale of financial services.
According to PayPal, the addressable market for a wide-range of financial services shown below amounts to well over US$100 trillion.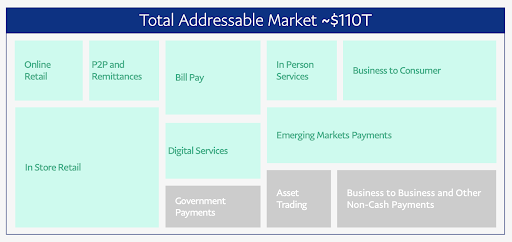 Source: PayPal's investor day
In short, what we have here is the best of both worlds.
Fintech services have found their way into the consumer's mindshare, and reached mass adoption.
Yet, the runway for growth remains long, given the trillion-dollar scale of these services.
It's not just us who believe so.
Earlier this year, PayPal CEO Dan Schulman remarked that the company's addressable market has tripled over the last three years.
Given the context, it's no wonder the likes of PayPal and Square are building multiple services to serve each market.
Here's a sample of their services:
Digital Wallets: PayPal has two digital wallets on offer, including its namesake brand and Venmo.
Likewise, Square's Cash App acts as a digital wallet while providing an ecosystem of financial services such as peer-to-peer (P2P) money transfers.
Cross-border money transfers: PayPal has Xoom under its portfolio of brands, which handles international money transfers.
Cross-border transfers were also added to Square's Cash App early last year.
Cryptocurrency trading: Square was relatively early in offering customers the ability to buy and sell Bitcoins back in 2018.
PayPal followed suit in October last year with a new service that enables customers to buy, sell or hold popular cryptocurrencies such as Bitcoin, Ethereum, Bitcoin Cash and Litecoin.
Buy Now, Pay Later (BNPL): The biggest fintech news in August 2021 was Square's decision to shell out around US$29 billion to acquire Australian based BNPL outfit AfterPay (ASX: APT).
The move came after PayPal launched its own BNPL service a year before. In September 2021, PayPal made its own move, acquiring Japanese BNPL outfit, Paidy.
Point of Sale (POS): On the merchant's side, Square has a general purpose POS software solution while PayPal offers its own iZettle POS solution.
Merchant credit: Both Square and PayPal are also doing their part to support merchants by offering credit solutions (read: loans) under their Square Capital and PayPal Business Loans products, respectively.
Get Smart: The Sweet Spot
When it comes to investing, there are few things better than having a combination of a long runway and companies with the means to address the opportunity ahead.
With fintech seeing mass adoption but still offering a long runway ahead, there is ample opportunity for investors to profit from the multi-year trend.
Finding your next 10X stock is surprisingly within your reach once you've mastered 3 core mindset principles. What are those? Find out more in our latest special report: "Your Personal Blueprint to Finding the Next 10x Stock". Click here to download it for free.
Follow us on Facebook and Telegram for the latest investing news and analyses!
Disclaimer: Chin Hui Leong owns shares of PayPal.