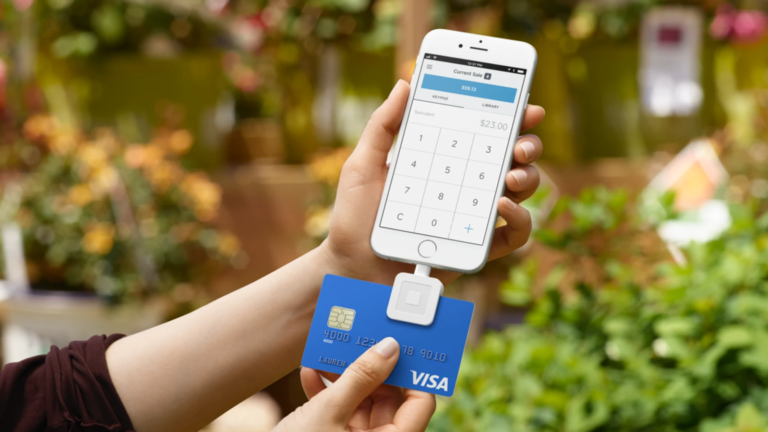 08 Jul

An Introduction To Financial Technology: How This Megatrend Can Power Your Portfolio

Cashless payments, such as credit cards, have been around for decades.

But not every business had access.

That changed in 2009, when Twitter's (NYSE: TWTR) chief executive Jack Dorsey and Jim McKelvey founded digital payments company Square (NYSE: SQ).

Using a petite device manufactured for US$0.97 each, Square transformed smartphones such as Apple's (NASDAQ: AAPL) iPhone into a debit or credit card reader.

Square's target market: small businesses.

By driving down fees for card transactions, Square made card payments available to small businesses who could previously only accept cash.

In doing so, the company revolutionised the payment processing space, unlocking a previously untapped market.

The simple idea took off like wildfire.

Between 2012 and 2019, Square's gross payment volume grew from US$6.52 billion to US$106.24 billion, a compound annual growth rate (CAGR) of 49%.

In 2015, the company completed its initial public offering (IPO) at US$9 per share.

This incredible growth in payment volume continued, leading to a surge in Square's share price.

Today, shares of Square are trading close to US$220, offering IPO investors a 2,400% return on their investment.
The growth of financial technology
Square's example showcases just one of the ways that technology has been used to advance the financial industry and make banking services available to those who have been previously left out.
Financial technology, or fintech, refers to the integration of technology to enhance existing services or create new financial product offerings.
Fintech developments are also active in the digital payment, wealth management and retail banking sectors, while creating new verticals such as cryptocurrencies and robo-advisory.
According to research by GlobeNewswire, the global fintech market is projected to grow at a CAGR of 20% between 2020 and 2025, where it will reach a total market value of US$305 billion.
With that in mind, there are three fintech areas with vast opportunities for growth.
By fishing in pools of opportunity in these sectors, investors can identify potential companies to invest in.
Digital payments and wallets
Digital payments refer to payments made over the internet, as well as cashless in-store payments via smart devices.
These payments are often done through a digital wallet, which electronically stores the user's payment information as well as digital coupons and credits.
The market for digital payments runs into the trillions.
Total transaction volume for digital payments worldwide is expected to grow at a CAGR of 18.8% between 2017 and 2024, and is expected to hit US$8.17 trillion in 2024.
Examples of digital wallets include GrabPay and Apple's Apple Pay service, which can store credit card information, and also allow users to make purchases online or in person.
These services offer convenience for consumers like you and me, who no longer have to bring physical wallets out when they shop.
Another giant of the digital payments space is PayPal Holdings (NASDAQ: PYPL).
PayPal has a vast network of 392 million customers and merchants in over 200 countries.
The company recently announced its strongest first quarter result in history, with revenue growing 31% year on year.
E-commerce
Ecommerce should be an ubiquitous term to most people by now, with the buying and selling of goods and services through the internet becoming commonplace during last year's circuit breaker.
The dramatic rise of e-commerce has reshaped the retail industry, forcing many companies to rethink their business models and go digital.
A recent report published by Adobe (NASDAQ: ADBE) shows that in the first quarter of 2021, consumers globally spent US$876 billion online, 38% higher year on year.
Companies such as Singapore's Sea Ltd (NYSE:SE), Canada's Shopify (NYSE: SHOP) and Latin America's Mercadolibre (NASDAQ: MELI) have combined their e-commerce prowess with digital payment solutions, becoming juggernauts in their respective operating regions.
Another major trend in e-commerce is omnichannel, where retailers combine their physical stores and online offerings to provide a more seamless customer experience.
In 2020, athleisure brand Lululemon Athletica (NASDAQ: LULU) enhanced its buy online, pick up in-store (BOPIS) capabilities by offering curbside pickup, where customers do not have to leave their car to collect their shopping items.
Other companies that enhanced their omnichannel capabilities include sports retailer Nike (NYSE: NIKE) and Mexican food chain Chipotle Mexican Grill (NYSE: CMG).
These companies have managed to use their brick-and-mortar stores as a delivery and collection hub to reach new customers and drive higher digital sales.
Blockchain
A blockchain is a distributed ledger technology that can be used to execute, store and verify transactions.
What makes blockchain so powerful is that all information recorded on it cannot be altered, and it can facilitate secure transactions without the need for a central authority.
The most well-known adoption of blockchain is in cryptocurrencies, which are secure digital currencies that are immune to counterfeiting and manipulation.
Coinbase Global (NASDAQ: COIN), a cryptocurrency exchange, completed its initial public offering (IPO) in 2021, and aspires to drive cryptocurrency transactions for everyday consumer spending.
Companies such as Square and Tesla (NASDAQ: TSLA) have added huge amounts of bitcoin, the most widely-adopted cryptocurrency, onto their balance sheets.
Another key use of blockchain technology is in smart contracts.
Smart contracts are electronic contracts with hard-coded agreement terms, which will execute the contract automatically when the terms are fulfilled.
This technology has the potential to enhance banking and insurance transactions, improving efficiency whilst enhancing security.
Get Smart: An outstanding opportunity
The COVID-19 pandemic has accelerated digital adoption around the world, and that trend is here to stay.
With a record number of people hopping on the internet and transacting digitally, fintech companies have a massive opportunity to create new financial solutions that change the way we handle money.
In addition, privately-owned unicorns such as Ant Financial and Stripe could make their stock market debuts in 2021.
The rising number of successful fintech companies truly makes fintech an outstanding growth opportunity for investors.
As a Smart Investor, you might not want to miss out on this fabulous, multi-year investment opportunity.
Who says you can't have the best of growth and dividend investing? We found 8 SGX stocks offering a rare mix of both! If you're looking for new stock ideas, use our FREE  8 Singapore Stocks for Your Retirement Portfolio to uncover hidden gems you may have missed in the market. Click here to download the report.
Follow us on Facebook and Telegram for the latest investing news and analyses!
Disclosure: Herman Ng owns shares of Apple, Sea Ltd and Mercadolibre.