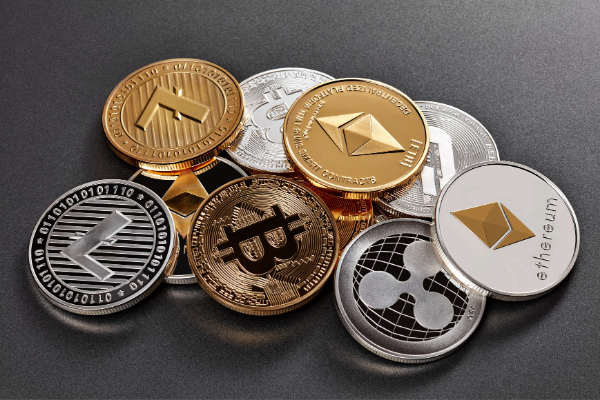 15 Dec

3 Businesses That Will Benefit From the Rise Of Cryptocurrencies

There are increasing signs that cryptocurrencies are becoming mainstream.

Earlier in November, the chief investment officer of the world's largest asset manager,

BlackRock (NYSE: BLK), declared that "cryptocurrency is here to stay" and that it could replace gold.

Shortly after that, BlackRock's founder and chief executive officer, Larry Fink, said that bitcoin could possibly "evolve into a global market asset", representing a 180 degree turn from his earlier stance in 2017 when he said that bitcoin primarily served money laundering purposes.

Another major financial institution that shares a bullish view is Fidelity Investments – it recently sought regulatory approval to launch a new bitcoin fund, highlighting bitcoin's potential as an investable asset.

Closer to home, Singapore's largest local bank, DBS Group Holdings Ltd (SGX: D05), recently announced that it is launching a full-service digital exchange.

This first-ever exchange will leverage blockchain technology to provide a platform for fund-raising through asset tokenization, while also allowing the trading of digital assets such as cryptocurrencies.

Nonetheless, investing in cryptocurrencies remains risky and fraught with challenges even as leading financial institutions are gearing up to provide crypto financial products.

This is because many governments around the world do not have clear regulations on how cryptocurrencies are traded.

The prices of bitcoin and ethereum, two of the most popular cryptocurrencies, have also been extremely volatile.

What does this mean for retail investors who are hoping to ride the emerging wave of cryptocurrency adoption?

A safer way to gain exposure is by investing in high-performing businesses that have positioned themselves to benefit from the cryptocurrency tailwind.

Let's take a look at some of them today.
Square (NYSE: SQ)
Square is an online payment solution provider that was founded in 2009 to help small businesses process payment.
Today, it offers financial-technology (fintech) solutions through two main segments – Seller and Cash App.
The Seller segment focuses on hardware and software solutions for businesses including point-of-sale devices and software for payment processing and analytics.
In the third fiscal quarter, gross profit of the segment grew a healthy 12% year on year to US$409 million.
But it was the Cash App segment that grew at a breathtaking pace.
Cash App serves as a digital wallet which facilitates peer-to-peer (P2P) payments. The segment's gross profit rose by 212% year on year to US$385 million.
This remarkable growth can be attributed to the expansion of the Cash App ecosystem beyond P2P payments to allow users to invest in bitcoin and stocks.
As a result, the app saw increased customer engagement that translated to an almost two-fold increase in the number of average daily transacting active customers.
To further strengthen its product offering, an auto-invest feature was recently introduced to enable dollar-cost averaging from recurring daily or weekly purchases of bitcoin and stocks.
This is especially useful in helping customers manage market volatility, especially in relation to bitcoin investing.
To facilitate bitcoin trades for its customers, Square has been buying and selling bitcoin although it was only in October this year when it made a significantly large bitcoin purchase worth US$50 million.
The company expects to hold this investment for the long-term, reinforcing its bullish view on the future of bitcoin.
PayPal Holdings (NASDAQ: PYPL)
Established in 1998, PayPal is a first mover and leader in online payments that has made its mark by being the default payment method for eBay (NASDAQ: EBAY) users.
Since then, it has transformed into a fintech solutions provider for sellers and buyers, offering various payment processing solutions including point-of-sale systems and digital wallet services.
Recently, PayPal launched a "Buy Now Pay Later" model which allows customers in the US and UK to pay for products with interest-free instalments.
This has helped its merchants to drive conversion and improve customer loyalty, thereby enabling PayPal to achieve impressive growth rates despite it being a relatively mature company.
In its fiscal third quarter, PayPal saw its total payment volume surge 36% year on year to US$247 billion, leading to a 25% increase in revenue to US$5.46 billion.
It has also been consistently profitable, achieving a net income of US$1.02 billion in the fiscal third quarter, up from US$426 million in the same period last year.
Nonetheless, PayPal does not stop innovating.
It made its foray into cryptocurrencies in October by allowing its account holders to buy, sell, and hold popular cryptocurrencies including bitcoin, ethereum, litecoin and bitcoin cash.
Users will also be able to use cryptocurrencies to pay for products across all 28 million of PayPal's merchants by instantaneously converting their cryptocurrency into fiat currency before payment.
By allowing the use of cryptocurrencies in transactions between consumers and merchants, PayPal has increased the utility of cryptocurrencies, thereby further strengthening its cryptocurrency endeavours.
Facebook (NASDAQ: FB)
Many of us would be familiar with the social media network behemoth, Facebook.
It owns some of the most widely-used social platforms in the world including Facebook, WhatsApp and Instagram, and has a staggering 2.74 billion monthly active users for the quarter ending 30 September 2020.
In the third fiscal quarter, its revenue and net income climbed 22% and 29% year on year respectively to US$21.5 billion and US$7.8 billion.
As the bulk of Facebook's revenue is generated through digital advertising on the Facebook and Instagram platforms, there is potential for Facebook to grow its earnings by monetizing its other popular platforms such as WhatsApp and Facebook Messenger.
At the same time, Facebook continues to explore other growth avenues, with plans to issue a cryptocurrency called the Diem Dollar (previously called Libra) in 2021.
The Diem Dollar is a stablecoin that will initially be pegged to the US dollar and it would allow users to transact goods and services over WhatsApp and Facebook messenger.
However, Facebook's cryptocurrency journey is expected to be bumpy as past efforts had faced strong regulatory push-back.
When Facebook first unveiled its crypto plans, then called Libra, in June 2019, governments around the world, especially the US regulators, demanded many onerous guarantees that were linked to the control of the source of funds and the respecting of privacy.
In response, Facebook scaled down and rebranded the project to Diem to distance itself from it and to show "organizational independence".
In order for Facebook to succeed this time, it will have to assure regulators that it has the capability and integrity to deal with privacy and security issues.
Get Smart with The Smart Investor.  CLICK HERE for your FREE subscription to our Smart Investing newsletter. Picking the right shares and the strategy to be successful in the stock market isn't easy. Get Smart in Investing with us and learn how to do so today.
Follow us on Facebook and Telegram for the latest investing news and analyses!
Disclaimer: Charlotte owns shares in Square, PayPal, Facebook and DBS.